With Future Uncertain, Tigers Hoping For Another Playoff Run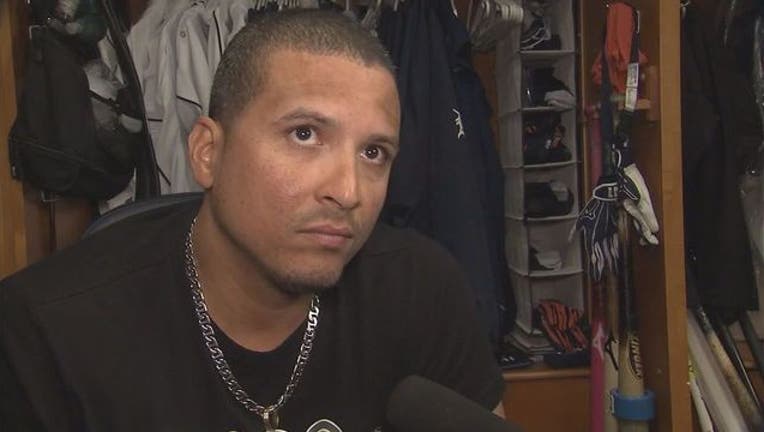 article
DETROIT (AP) - The Detroit Tigers enter the 2017 season at a crossroads.
Yes, players are excited about what this team could still accomplish after management decided to keep the roster largely intact. There's also a sense that the future is very uncertain.
"You never know. We're definitely not getting any younger," Victor Martinez said around the start of spring training. "We're still competing. Nobody said it was gonna be easy."
Martinez, Justin Verlander, Miguel Cabrera and the rest of the Tigers will have another chance to make a run at the postseason this year. Detroit fell just short of a wild card in 2016, and although there's been some talk of cutting costs , the Tigers haven't started any major rebuilding process. Once this season is over, there could be significant changes, but for now, Detroit is hoping its window of opportunity is still open.
After a last-place finish in 2015, Detroit went 86-75 last year. Verlander nearly won the Cy Young Award, Cabrera slugged 38 home runs and Martinez stayed reasonably healthy, hitting .289 with 27 homers.
Ian Kinsler hit 28 home runs, his most since 2011, but the Tigers still ended up eight games behind AL Central champion Cleveland. Injuries to Jordan Zimmermann, J.D. Martinez and Daniel Norris may have cost Detroit a postseason spot, but the Indians had injuries too, and the Tigers will have a big challenge trying to close that gap.
"I don't worry about the Indians. I don't worry about the Royals, the Twins, the White Sox. There's only one team I'm concerned with," Detroit manager Brad Ausmus said. "(The Indians) owned us last year. I don't care about last year."
Some things to watch with the Tigers this season:
ILITCH'S LEGACY: Tigers owner Mike Ilitch died in February at age 87. Although the Tigers weren't able to win a World Series while he was owner, his competitiveness helped make it possible for Detroit to acquire so many of the game's top players. The Tigers won American League pennants in 2006 and 2012 and took four straight AL Central titles from 2011-14 - and Ilitch will have been a big part of anything they accomplish this season as well.
YOUNG ARMS: Although many of Detroit's biggest names are in their 30s, the Tigers do have some younger talent, and that's a big reason they nearly made the postseason last year. Michael Fulmer went 11-7 with a 3.06 ERA and won Rookie of the Year honors, and although Norris was limited to 13 starts, he went 4-2 with a 3.38 ERA at age 23.
THE FUTURE: The Tigers will have a lot of decisions to make in the year to come. J.D. Martinez, Mike Pelfrey and Francisco Rodriguez can become free agents after this season, and Detroit has team options for 2018 on Kinsler and Anibal Sanchez. If the Tigers get off to a poor start, the handwriting might be on the wall.
HEALTH: The Tigers are hoping Zimmermann and Norris can give them a boost after an injury-plagued 2016. Detroit is already dealing with another problem, however. J.D. Martinez sprained his right foot during spring training and is expected to miss the start of the regular season.
ROOKIES TO WATCH: Outfielder JaCoby Jones played 13 major league games last year in his debut season, and he has been a candidate for the job in center. Joe Jimenez went 3-3 with a 1.51 ERA and 30 saves across three minor league levels in 2016. The Tigers haven't shown any interest in rushing Jimenez, but if the bullpen is a trouble spot in Detroit - and it often has been - there may be pressure on management to promote Jimenez.