Wolverines' Shea Patterson immediately eligible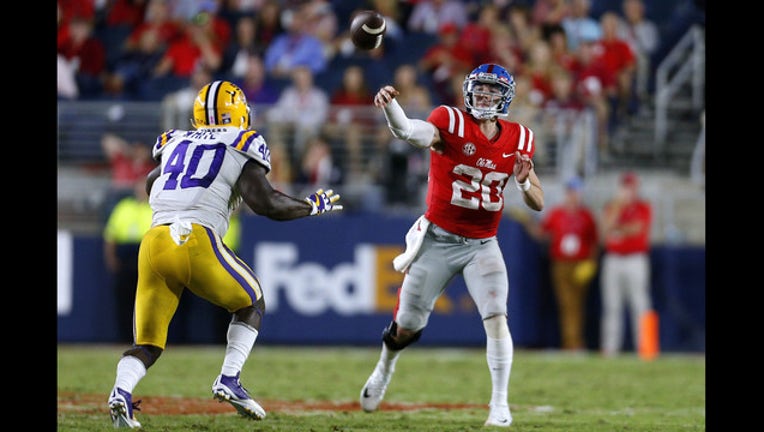 article
ANN ARBOR, Mich. (WJBK/AP) - The University of Michigan announced Friday that transfer quarterback Shea Patterson has been granted immediate eligibility.
Patterson, a former five-star quarterback recruit from Toledo, Ohio, decided to transfer from Ole Miss after the NCAA penalized the football program with sanctions for rules violations under former coach Hugh Freeze. The penalties included a bowl ban for the 2018 season. 
Patterson claimed Ole Miss coaches and staffers misled him during the recruiting process about an ongoing NCAA investigation.
Without the waiver, Patterson would've had to sit out a year due to transfer rules.
Patterson played three games as a freshman in 2016 and passed for 880 yards and six touchdowns. Last season, he was one of the most productive passers in the country though the first seven games of the season, passing for 2,259 yards, 17 touchdowns and interceptions before tearing a ligament in his right knee.
His presence will provide a much-needed boost at the pivotal position.
"Shea is a good quarterback," tight end Nick Eubanks said.  "He's a great quarterback. He can throw the ball and he's the most athletic quarterback we got right now. He's a playmaker, too."
Harbaugh, coming off an 8-5 season, seems to need Patterson to potentially provide stability and a two-way threat.
"Shea's practicing and practicing very well," Harbaugh said. "He's going about his business and taking care of it nicely. He's controlling the things that he can control. We're treating it the same as a coaching staff and a team."
He is expected to compete with Brandon Peters and Dylan McCaffrey to be Michigan's starter.
Wilton Speight transferred from Michigan to UCLA.
Eubanks described Patterson as athletic, said Peters is relaxed and called McCaffrey confident and Milton a gunslinger.
"I trust all four," Eubanks said. "All four are good, to me. That's going to be a hard choice to decide who's going to get the starting job."
Follow @FOX2Sports on Twitter as this story continues to develop.