Forecast: Metro Detroit to finally see rain again on Sunday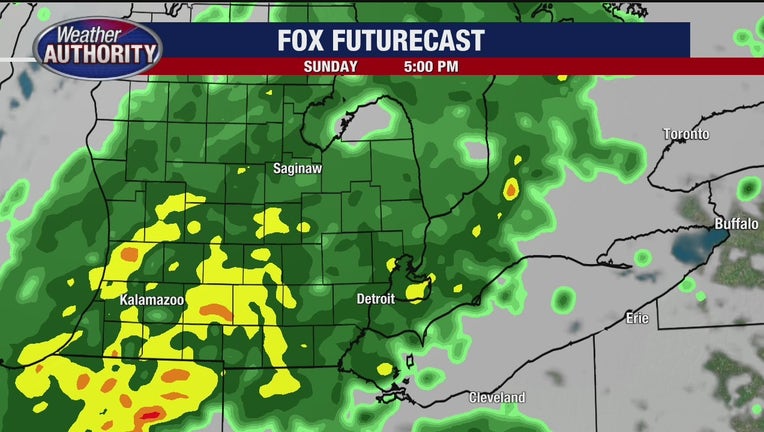 article
DETROIT (FOX 23) - It's finally about to end.
The grass is crunchy. The lawnmower hasn't been needed for weeks. Your garden is needing constant watering. These are all the classic signs of a drought. And if you looked outside or walked outside or just, ya know, lived, you would know – this is what we've been experiencing for the past three weeks.
The last time in rained in the Detroit area was in mid-May. In the past 19 days, we've experienced temperatures that touched 90 followed by highs in the low 70s with hazy skies from the Canada wildfires. 
It's now June 10th and school is out – which is apparently the perfect time for rain to return.
Saturday, temps hit the low 80s as school for most schools are officially out for the summer. But on Sunday, we expect a pretty decent, and desperately needed, bit of rain as temps will dip to the upper 60s.
We'll have an area of low-pressure track across the Great lakes through the middle part of the day bringing in some scattered showers throughout the day. Rain remains light through the afternoon. 
We'll start with rain showers in the morning for most of us and they'll be pretty steady throughout the day. But this isn't a huge soaker with about half an inch of rain expected.
We'll take it! The last time we saw any measurable rain was back on May 20th , three weeks ago, at 0.01". Before that we had just over 0.50" of rain on May 19th.
The cut off low will continue to funnel in moisture through Monday and also cool off temperatures as well with highs struggling to make it out of the 60s. Shower chances Monday look spotty with quite a bit of cloud cover remaining overhead. Wrap around moisture from the area of low pressure will continue to bring in more rain chances through the day on Tuesday with highs still running 10° below the seasonal high.
The recent drought monitor has much of the state under abnormally dry conditions with southern parts of the state closer to Toledo in a moderate drought. We ended the month of May with a 2.40 inch rain deficit and are already at almost one inch below the normal for the month of June!