New York, Northeast could see orange skies return from Canadian wildfire smoke
NEW YORK - Martian-like orange skies that eerily stopped the bustling streets of New York City last week could return this week.
The culprit was spotted Thursday as northerly winds drove wildfire smoke in Canada down into the Upper Midwest. Forecast models suggest it could now swing back into the Great Lakes and Northeast by Friday, according to the FOX Forecast Center.
As of Thursday morning, there are 107 fires burning in Quebec, the province's fire agency reported. In northern Ontario, there are 63 active fires.
SEE EERIE ORANGE SKIES OVER NEW YORK CITY AS CANADIAN WILDFIRE SMOKE BLANKETS NORTHEAST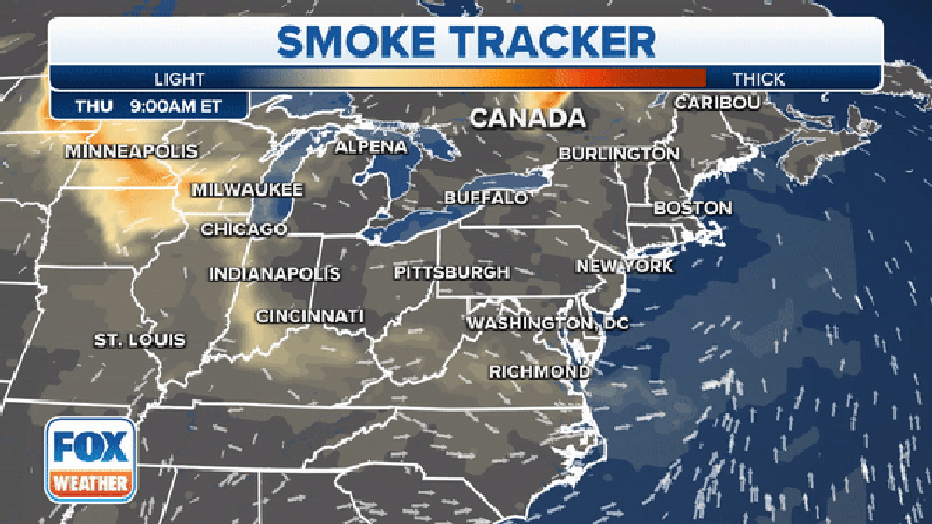 On June 7, New York City's air quality ranked as the worst of any major city worldwide, surpassing New Delhi, India, according to a report from IQAir. The blanket of orange skies sitting over the Big Apple resulted in hazardous air quality for millions and marked the city's worst air quality readings on record.
NEW YORK AIR QUALITY: HAZARDOUS AQI LEVEL REACHED IN NYC
The low visibility also caused by the smoke shortened the depth of field, hiding a fuller view of Manhattan buildings behind a curtain of smoke. 
On the ground, the wildfire smoke transformed the bustling city views into something almost otherworldly as residents and tourists made their way around Radio City Music Hall.
WHAT TO DO WHEN WILDFIRE SMOKE SMOTHERS YOUR AREA AND HOW TO KEEP YOUR HOME'S AIR CLEAN
Canada is in the midst of one of its worst fire seasons on record. The only year that rivals it so far is 1995, when more than 17 million acres were charred. 
According to the FOX Forecast Center, more than 11 million acres have been burned so far this year, and it's important to note that the fire season hasn't peaked yet. The dangerous situation is likely to get worse as the year enters summer.
Poor air quality conditions can be dangerous for many, such as the elderly and pets. To stay updated on local air quality across the country, check out the forecast in the FOX Weather app.