Timeline: Metro Detroit's first 'spring' snow arrives Friday, heavy for some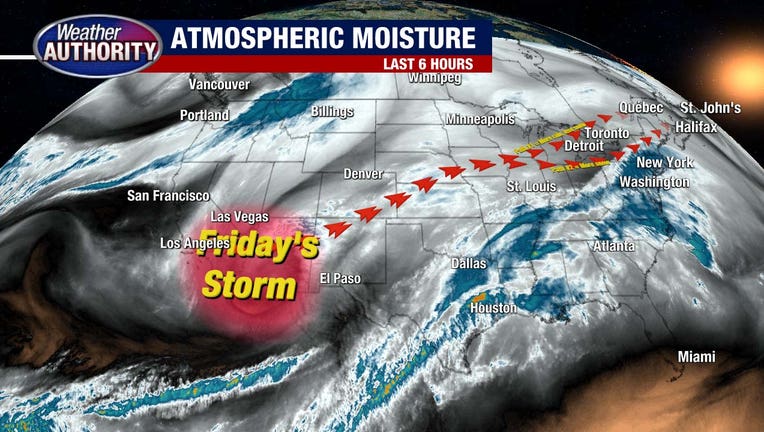 article
SOUTHFIELD, Mich. (FOX 2) - While we have officially transitioned from meteorological winter into meteorological spring, winter weather is not quite done with us!
On Friday, March 3, we'll see our first 'spring' snow storm as several inches of snow are expected to fall across most of Michigan. A significant snowstorm is possible as we head into Friday afternoon through Friday night. 
A winter storm watch was issued starting at noon on Friday for most of southeast Michigan.
When will the snow start to fall?
Typically, within 24 hours, we have an extremely good handle on how the storm is going to play out...but this storm is a little different. Thanks to the track and the timing in the season, there are still some questions about how it will impact us. Here's what we know right now.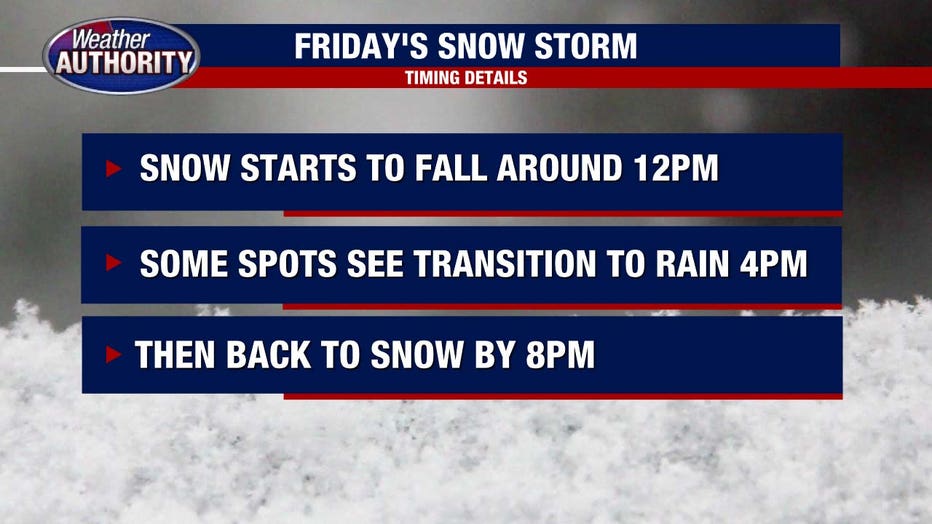 Friday's snow will start around noon and transition to rain before then going back to snow.
The winter weather will start with snow around noon on Friday. But as the temperature climbs, we could transition to rain around 4:00 p.m. 
The areas that get the rain will see lower snowfall totals. This will be mostly confined to Washtenaw, Wayne, Monroe, and Lenawee counties. Spots in Livingston. Oakland and Northern Macomb counties will probably see more heavy snow with higher totals.
Track the snow storm as it blows into Southeast Michigan with the FOX 2 Weather app.
For those of us seeing the snow transition to rain, it will switch back to snow around 6 p.m. when the temperature drops.
How much snow will fall?
We're confident about the timing and that the snow will be "heavy." This snow is going to be packed with moisture with overall water totals from the storm nearly 1.25" – which is very wet. Any snow that we see will be wet and heavy. 
But the challenge is forecasting how much snow we'll all see.
Snowfall totals are less certain but will vary depending on location. In extreme Southeastern Michigan, we're looking at 2 inches or less. Meanwhile, in Washtenaw and Wayne counties, they're in the 2 to 5 inches while Livingston and Oakland counties will be looking at between 4 and 8 inches of snow. As for Macomb County, they're in a class of their own with between 3 and 6 inches of snow falling, with more snow expected in northern Macomb County.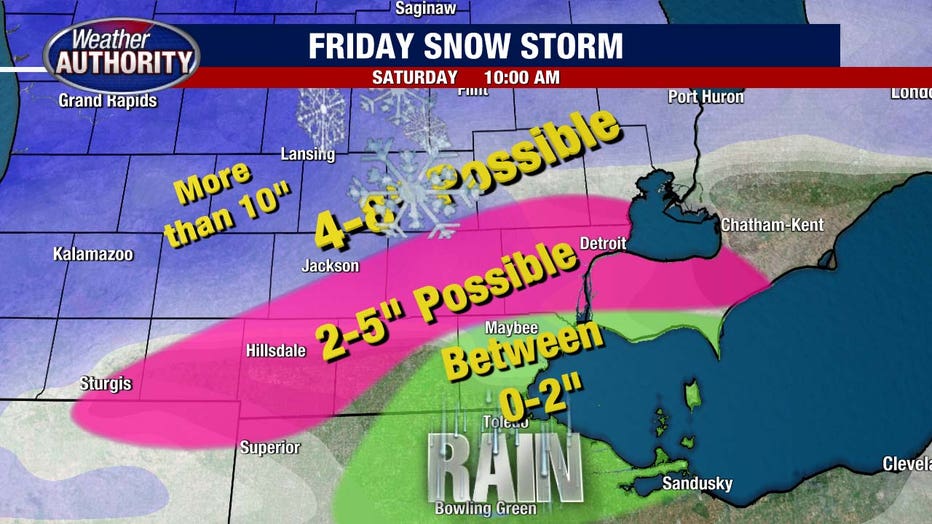 We expect northern and western counties to see more snow than southern and eastern counties.
Of course this could all change dramatically as the storm develops a clearer path towards Michigan. We will continue to watch it.
As the system blows in, it will literally blow in. We expect wind gusts to be near 40 MPH by the afternoon.
This snowmaker could take one of two tracks - making the forecasting of how much snow Metro Detroit will see very tricky.
Will schools be closed?
It's likely schools will be closed on Friday – but not a guarantee. Because of the timing of the snowstorm, some schools could let out early in the afternoon to keep kids safer. But only time will tell.