11-year-old gets staples in her head after teacher throws hockey stick at her
DETROIT (FOX 2) - An 11-year-old girl was hit in the head by a hockey stick at school - and a substitute gym teacher was then convicted of child abuse.
"Her excuse was she was trying to throw the hockey stick at another kid, and hit her by accident," said attorney Jon Marko.
The substitute teacher threw the metal hockey stick out of anger at Hope Academy elementary school in Detroit.
"She was yelling and doing some cussing," said Cha'Kyra Thomas. "The next thing I know I feel something hard on the side of my head."
Thomas didn't realize it was a hockey stick - dazed and confused, at Hope Academy on Detroit's west side, last May.
"When the mother of this little girl gets to the school, and is wondering where is my daughter, they couldn't even find her," Marko said. "She was found wandering the hallways confused with blood running down her face."
She ended up with staples to her head – and brain trauma.
The substitute, Jacqueline Brown, never said sorry – and was actually criminally charged with child abuse for the crime.
"What kind of a teacher throws a hockey stick at a fifth-grader's head? I mean you obviously have to have something wrong with your head," Marko said.
That teacher, Jacqueline Brown, was actually sentenced Thursday, part of a plea agreement she will do two years probation and have to attend anger management classes.
"Just looking at her brought back all the memories of getting hit in my head," said Cha'Kyra.
The 11-year-old was in court for the sentencing and says she had to move schools and has lingering issues from the trauma.
"My memories, now I got to wear glasses and I don't remember real good," she said.
She is also seeing a counselor to cope with what happened but suffers from nightmares.
"It's like flashes what happened that day," Cha'Kyra said. "I got hit on my head I remember kids just laughing at me."
Attorney Jon Marko and the family are suing the teacher, the charter school, and the staffing company that places this teacher.
The school, was not in session – when FOX 2 called for comment.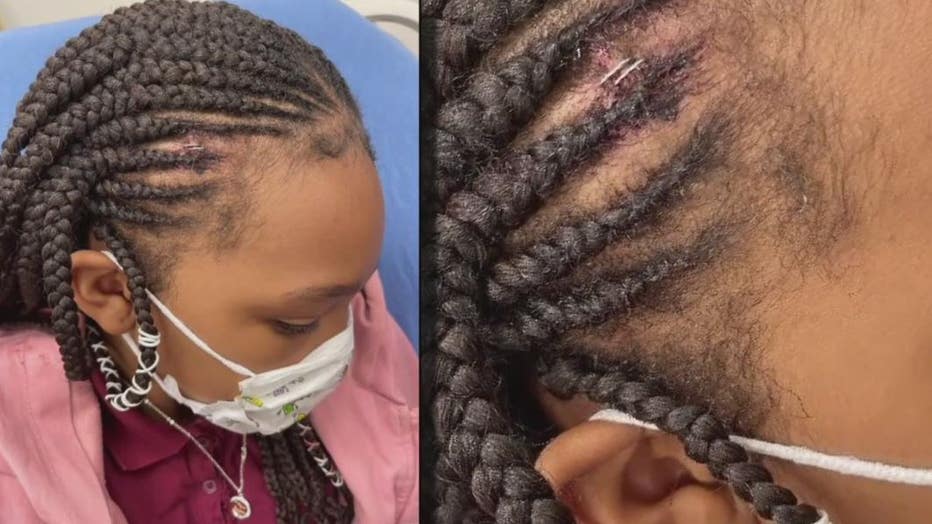 Eleven-year-old Cha'Kyra Thomas and the staples in her head after the injury.