16-year-old chef earns culinary arts bachelor's degree from Henry Ford College
DEARBORN, Mich (FOX 2) - Zayneb Abu-Khader is just 16 and already a college graduate, with a degree in culinary arts.
"Imagine being a little kid coming into such a big world compared to me, to seeing the chefs in action just inspired me a lot, and seeing the other students was just so inspiring. I loved it," she said.
What started as summer camp at Henry Ford College led to college at the age of 13. She graduated three years later and now has her bachelor's degree in culinary arts. Abu-Khader is the youngest person to earn that degree at Henry Ford College
"Very proud moment for us, all in our family," said Dr. Shayma Mustafa, Abu-Khander's mother. "I'm just in awe. I'm definitely proud but I'm more in awe at her tenacity to want that degree so quickly."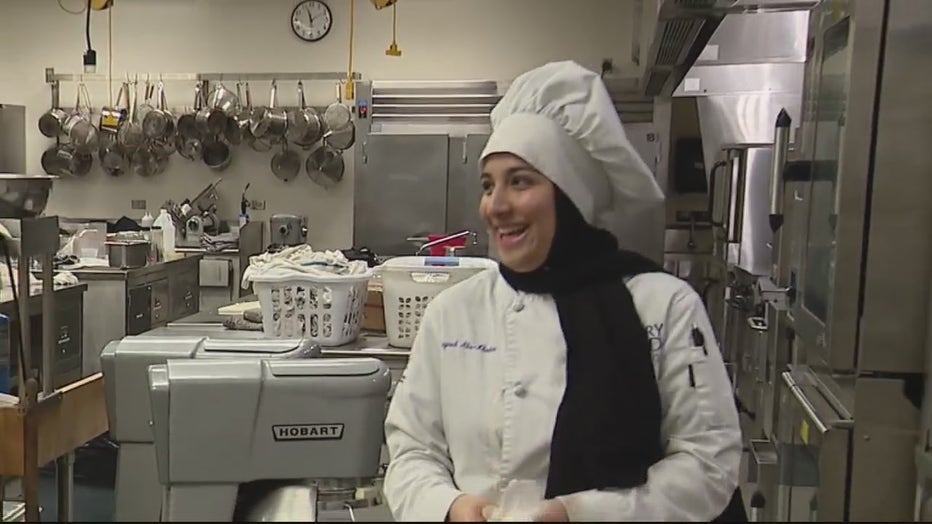 Mustafa just earned her doctorate from another university and attended her daughter's graduation instead of her own. She teaches at Wayne State and Henry Ford, and home-schools her own children as she encourages them to keep learning.
"You seek knowledge from the cradle to the grave and that's just exactly how I've always been. You just keep going, keep going. There's always something new to learn," she said.
Abu-Khader said she's inspired by her family and their love of cooking
"My mom's just constantly been an inspiration, continuing that line of inspiration," she said. "I love Middle Eastern food. I'm Middle Eastern myself so of course I grew up around Middle Eastern food, so eating it and cooking it is probably my favorite as well."
Abu-Khader and her family are especially grateful to the chefs and instructors who guided her to success.
"I feel like Henry Ford College, it's a family more than like a college, more than a classroom with strangers," Mustafa said. "It's a family, so she loved it here."
Now, the young chef wants to get her Master of Business Administration from Wayne State and possibly open her own restaurant or pastry shop.
"Hopefully one day. We'll see where life takes me - restaurant, bakery, we'll see what happens," she said.
No matter where she goes, she'll follow her dreams with her family cheering her on.
"I know growing up, especially from a Middle Eastern home, we were always 'you're going to be a doctor, you're going to be a lawyer.' Well, guess what, that doesn't always pan out right? So, it's okay for our children to venture out as long as they love what they're doing and that's the most important thing to me, as a mom, is that they love what they're doing," Mustafa said.