19-month-old injured in fire that killed 4 siblings taken off life support, breathing on his own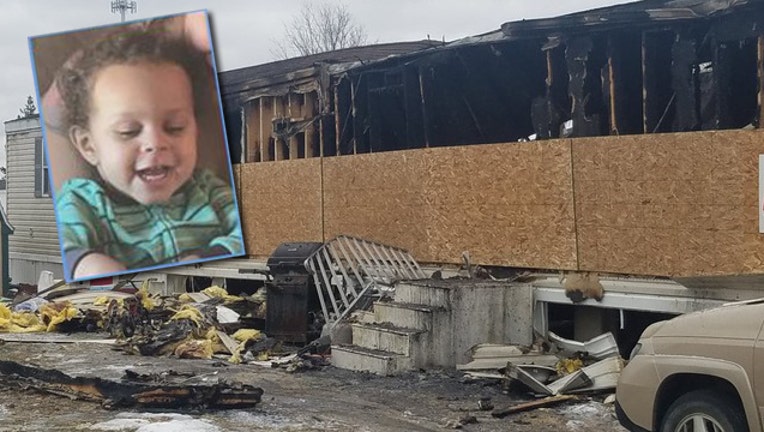 article
IMLAY CITY, Mich (FOX 2) - A toddler who was one of 5 children trapped inside of a home when it caught fire in Imlay City last month has been taken off life support and is now breathing on his own.
Keyshawn Kelly, 19-months-old, was taken off life support Friday and is now breathing on his own. He's not in the clear yet and still has a long way to go in his recovery. The full extent of his injuries are not yet known.
Keyshawn was one of five children trapped in the fire on February 27th in Imlay City. Four other children, 6-year-old Keith; 5-year-old Keyondre; 3-year-old Keyanna; and newborn Keyeirah all died from their injuries when the fire ripped through the family's home. 
The childrens' father, Keith Kelly was also hurt and is listed in critical yet stable condition. Their mother, Krystal Whitney is also still in stable condition. 
The cause of the fire is still not known but last week, investigators believe the fire started in the living room - and wasn't caused by an alternate heating source. Authorities had earlier speculated that the fire was caused by a faulty furnace or alternate heat source, such as a space heater. 
"The theory that the fire may have been the result of a faulty furnace or alternate heat source or space heater has proven to be incorrect," Imlay City Police Chief Scott Pike said in a press release.  
Pike added that the furnace was likely on and in proper working condition. 
"The cause of the fire (if able to be determined) will depend on additional investigation and interviews," Pike said. 
If you'd like to make a donation to the family, you can do so via their GoFundMe account here.