2 employees shot outside auto sales business in Clinton Twp; search continues for gunman
FOX 2 - Two men were shot in the parking lot of R&R Auto Sales Monday afternoon in Clinton Township. The search continues for the gunman.
According to police a caller reported, an unknown suspect had shot the two employees and fled on foot to an unknown vehicle. The vehicle then fled southbound from the location, at 411 Gratiot Avenue.
Police say the circumstances are not known what led to the shooting.
The two victims were transported to a local hospital and are being treated for their injuries. The two victims are reported in stable condition and expected to recover.
"All of the sudden you hear what sounded like a car misfiring or a bunch of fireworks," said witness Eric Monroe, who works next door at Doug's Muffler.
That wasn't all he heard.
"I just heard 'Help, call 911,' then some screaming and then we walked over here to see what was going on and this guy was shirtless they were trying to help him out," he said.
Evidence markers litter the lot at R and R Auto. It happened around 2:30 in the afternoon on Monday and police arrived seconds later.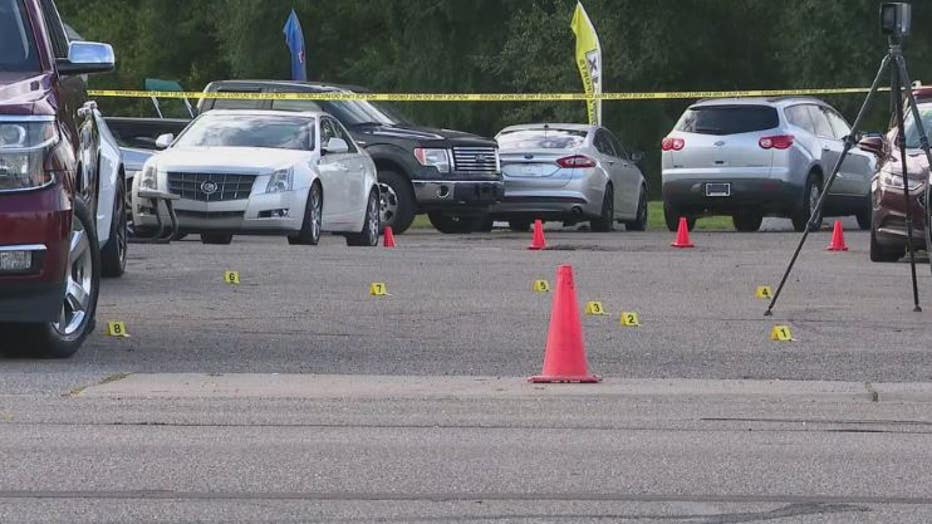 "Two people were found shot in the parking lot of the R and R auto sales," said Capt. Dina Caringi, Clinton Twp. police. 
"I'm told they are in stable condition at this time."
"Two people I did see get put into the ambulance," Monroe said.
Investigators stayed on the scene for hours trying to gather as much evidence as they could and figure out what may have led to the shooting.
Police say at this time they don't have a description of the shooter but are gathering evidence including from security cameras throughout the area. 
 
Anyone with information regarding this incident is asked to contact: Detective J. Anderson at 586-493-7854.