2 suspects caught, 1 on the run after Ann Arbor armed robbery, attempted break-in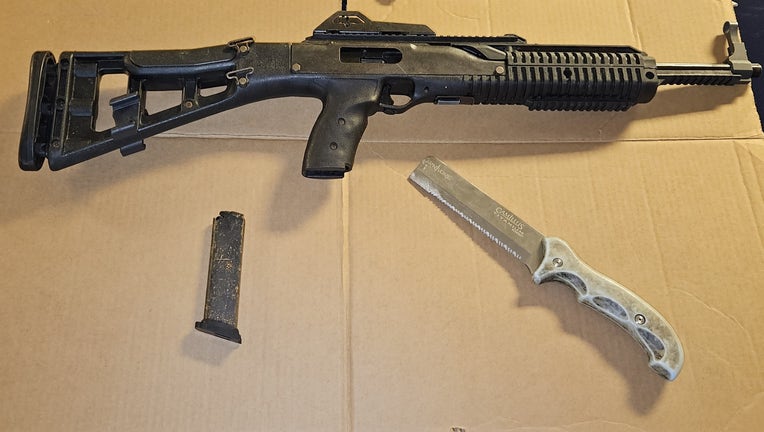 article
ANN ARBOR, Mich. (FOX 2) - Two robbery suspects are in custody after fleeing Ann Arbor police and crashing early Thursday.
Police were called around 2:15 a.m. by two women who said they were robbed in the 200 block of S. Main Street. The victims said they were standing on the sidewalk when a vehicle suddenly made a U-turn and parked near them. 
The driver, who was armed with a long gun, got out and approached the women. The passenger, who was wearing a ski mask, got out holding a knife. One of the suspects demanded cash and fled when the victims complied, police said.
The victims provided a description of the suspects and vehicle to police.
A few minutes later, police spotted a vehicle matching the description with a passenger wearing a ski mask at a gas station at 402 S. Main St. The suspects fled westbound on W. William Street. Police pursued the suspects until they crashed at Allmendinger Park at 655 Pauline. 
Police said two suspects fled, while another passenger, a 20-year-old Saline man, stayed at the scene. He was taken to the University of Michigan Hospital. Police said there was also a long gun at the scene.
During the investigation, police learned about an attempted break-in they believe involved the same suspects. That crime happened around 2 a.m. in the 1800 block of Arbordale.
The 28-year-old homeowner said he heard his car alarm and then someone banging on his front door. Once he opened the door, two male suspects confronted him, and one of the suspects tried to force his way into the victim's home. Police said the homeowner managed to fight off the suspects and lock his front door. 
Police believe the suspect damaged the victim's vehicle before leaving.
Around 4:35 a.m., police say they located one of the suspects, a 22-year-old Ypsilanti man, walking on S. Main Street. He had outstanding arrest warrants and was taken into custody without incident.
Police said they have identified the third suspect and are looking for him. They did not provide an identity.
Anyone with information is asked to contact police at 734-794-6939 or email tips@a2gov.org.
Watch FOX 2 News Live