Abortion, paid family leave, 100% clean energy - Whitmer eyes aggressive agenda for rest of 2023
LANSING, Mich. (FOX 2) - The Michigan governor took a victory lap after Democrat's busy 2023, then pivoted toward the party's next agenda for the second-half of 2023 during a Wednesday speech in Lansing.
After making progress on abortion, gun safety, labor, and expanding protections for LGBTQ+ people from discrimination, Gretchen Whitmer pointed toward four general themes: the health of people, the planet, the economy, and democracy.
"Slaying our zombie laws was great, but there are still other bad laws that put politically motivated, medically unnecessary restrictions on abortion," she said, eyeing restrictions on access, repealing rules for facilities that offer the operation, and other barriers for low-income individuals.
Whitmer's midweek speech came days before lawmakers returned to Lansing for another round of legislating. 
It also came during several national trends colliding, from extreme weather both abroad and local and multiple criminal cases investigating the 2020 election - themes she touched on and said the time to act on was now. 
Many pieces of Whitmer's speech would have little place to go during previous sessions of government. 
But the state's Democratic trifecta in the state House, Senate, and governor's office means that Whitmer will have more leverage in the policies she wants to push for. That includes codifying parts of the Affordable Care Act like protections for pre-existing conditions and requiring insurance plan to cover essential services.
She also argued for lowering costs on prescription drugs - a day after the Biden administration released the first 10 drugs it would negotiate the prices on for those on Medicare. 
The agenda included other policies that would have little space to move in a divided legislature, including enacting a 100% clean energy standard and bolstering paid family and medical leave for the private sector.
"Right now, 77% of Michigan workers do not have access to paid family and medical leave. They deserve better," she said.
She also talked about the need to improve the permitting process.
With manufacturing a key part of growing the economy, Whitmer said she's heard no state has got permitting "quite right" and said Michigan should be the first.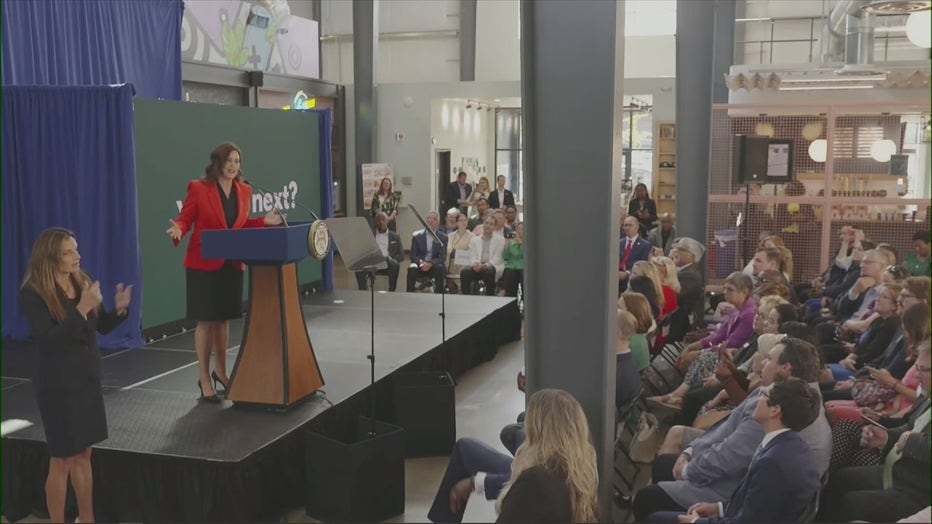 "To build more, faster and harness the full power of our economic development toolkit, let's streamline our permitting process for advanced manufacturing, infrastructure, housing, and so much more," she said. "Over the years, I issued executive orders to improve our permitting process, but we need legislation to make long overdue strides."