Alleged killer confesses, leads police to dismembered body in Macomb County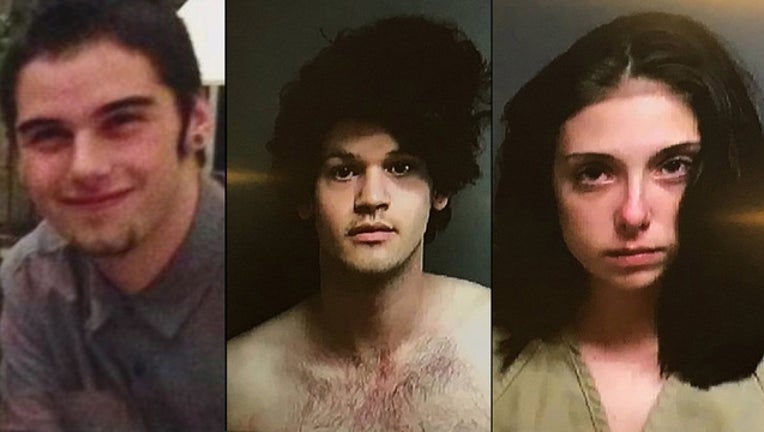 article
(WJBK) - Two are in custody after an alleged killer confesses to murdering and burying a 19-year-old man in Macomb County.
Andrew Michael Fiacco, 19, and Eevette Renee Macdonald, 18, were arraigned at 1:30 p.m. Friday at the Macomb County court in Romeo for allegedly murdering 19-year-old Stephen McAfee.
2:30 p.m. UPDATE: They were arraigned by video conference Friday. Fiacco was not given bond, Macdonald was given a $20,000 cash surety bond. She must wear a GPS tether, and cannot have contact with the victim's family or Fiacco. They will next appear in court at 1:30 p.m. May 23, where it will be decided when their probable cause hearings will take place. 
McAfee was last seen March 10, 2016, and had been missing for over a year when police were tipped off about what may have happened.
Police say about a month ago, Macdonald was talking to a female friend about the murder. She told her friend that Fiacco had shot McAfee and that Macdonald had helped dismember the body.
This past Wednesday, April 26, the friend and her father went to the police department to tell officers. Police made her a witness to the prosecution, which grants her immunity. This is a legal practice where a prosecutor grants immunity to a witness in exchange for testimony or other evidence.
Officers then took Macdonald into custody, and later arrested Fiacco.
During the investigation, police say Fiacco's story changed multiple times. They say he then Fiacco confessed to the crime and told police where they dismembered the body.
Macdonald also provided information that implicated herself in the crime.
Police searched two locations, including Fiacco's home on Kunstman Road near 28 Mile in Ray Township in the backyard behind a garage.
A neighbor told Fox 2 he saw while searching for the remains, police had dug up a shallow grave.
Police also searched a privately owned vacant lot at 34 Mile and Van Dyke.
Officials say they found McAfee's remains at both locations.
Prosecutors say they issued a four-count felony indictment on Fiacco, including a first-degree murder, which is a life felony without parole.
According to a Facebook page looking for the public's help finding McAfee, he had Asperger's syndrome, but was high-functioning. Friends and family searching for him had offered a reward up to $7,600 to find him.
After learning information from the police regarding the remains, they posted the following message on the page:
Crime Stoppers had also offered a reward, but the case had gone cold until Macdonald's friend came forward April 26.
During the time of the incident, Macdonald and Fiacco had been dating but are no longer in a relationship.
McAfee's family requests privacy and does not want to be contacted at this time.
Watch the full press conference on Fox 2 News Now: