Arab, Black community leaders urge improved relations after gas station shootings
FOX 2 (WJBK) - Two recent criminal cases involve an Arab-American Detroit gas station clerk charged for the death of an African-American customer. It raises the question if relations can improve between these two communities in the city.
"If you would have told me that two cases involving gas stations, early morning hours, locked doors and shootings would happen here in the span of a month, I would not have believed that," said Wayne County Prosecutor Kym Worthy.
Worthy addressed the media Thursday morning before a gas station clerk was charged with first degree murder. He allegedly shot a customer through the locked glass door on Monday after the dispute began over beef jerky.
"I can't understand how somebody would take a life over beef jerky or $4 or $3 or a bag of chips," said Nasser Beydoun, Arab-American Civil Rights League.
But it happens. Last month a Detroit gas station clerk was charged with involuntary manslaughter after police say he hit a door lock button, keeping customers inside the store.
He was protected behind the counter by bulletproof glass when one of the customers shot the other three customers — killing one of them.
It was allegedly over a $4 refund.
"You know it's unfortunate, but gas stations in the City of Detroit are starting to become death traps," said Teferi Brent, activist with Dignity for Detroit. "They're becoming death traps for our citizens."
There is now a push to require gas stations to close earlier and a renewed effort to reinforce the work these two men have been doing for years.
"It is now time for Arab-American leaders and African-American leaders to sit down and have a serious conversation about what's happening in our neighbors and our communities," Brent said.
"You try and educate your employees and try and make sure they understand to treat their customers with respect," Beydoun said. "You tell them no guns in the station."
Detroit police immediately shut down the gas stations on Vernor and W. McNichols after the shootings, because the businesses were operating without proper licenses.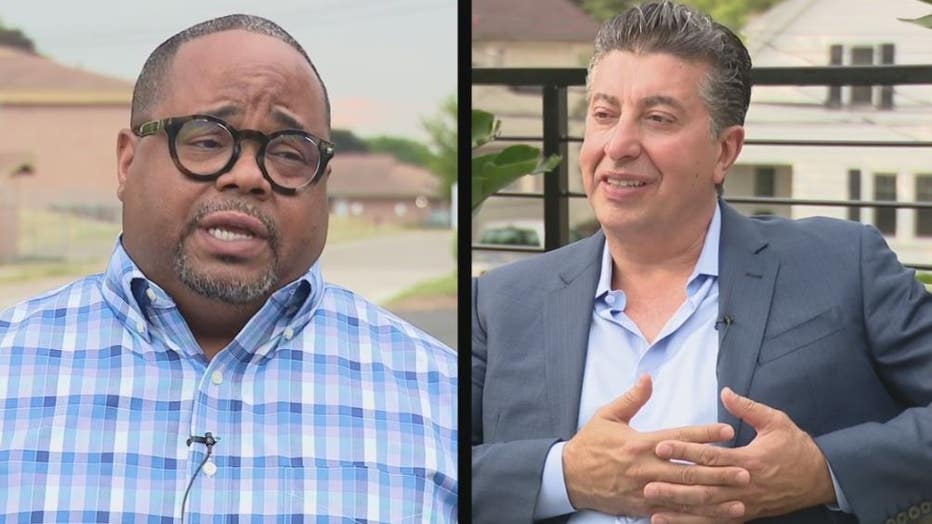 Teferi Brent, left, and Nasser Beydoun.