Are caracals legal in Michigan? An exotic African cat's escape in Royal Oak raises the question
ROYAL OAK, Mich. - Prior to the week of mid-October, there's a chance many in Metro Detroit were unaware of what a caracal was. 
Described as the size of a medium-sized dog with the personality of one too, these carnivorous 50-pound African native cats feature ears similar to horns and long canine teeth. They hiss instead of meow and prey upon small mammals, birds, and rodents for food.
So when at least two got loose this week after escaping from the enclosure in a Royal Oak resident's backyard, community members were on high alert about an exotic cat stalking its way through Metro Detroit. 
No one was injured and the missing caracal - whose name is Bam Bam - was returned safely to its home. The fate of the large cat's future residence appears in limbo though after its owner agreed with Royal Oak police to relocate the animals. 
The legal territory for owning an exotic pet is not ambiguous - at least not for those that do own one or any of the animal control officers that enforce rules regulating their ownership. 
RELATED: Police hunt for missing exotic cat
There are no state restrictions related to the possession and ownership of caracals, according to an MDARD spokeswoman. As long as the animal receives adequate care, including food, water, shelter, sanitation, exercise, and veterinary care to keep them in good health, the owner may keep them.
However, there may be local restrictions. Macomb County's Animal Control Department has an ordinance outlawing the ownership of exotic cats - a law that many townships and cities have signed onto.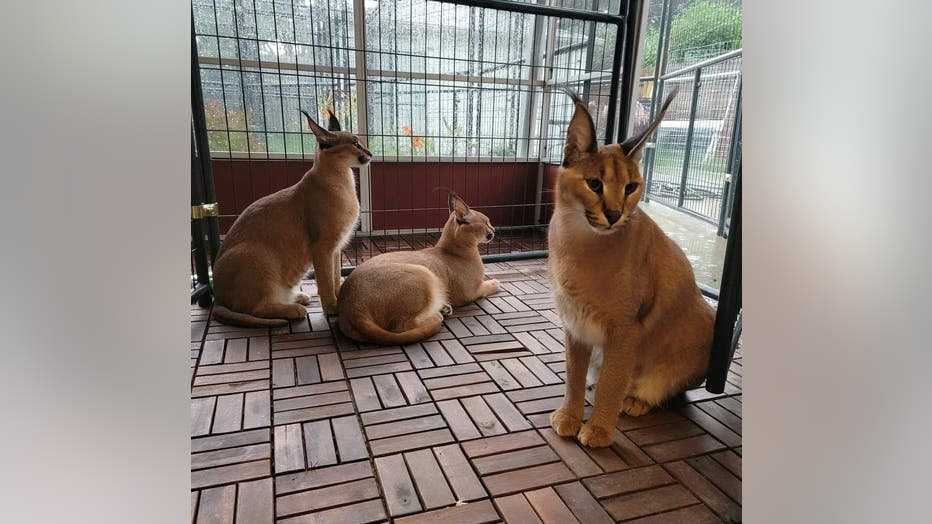 Three caracal cats inside of an enclosure. Image via Royal Oak Public Schools Facebook page.
"If the animal is dangerous or potentially dangerous, it doesn't matter if you live in a rural or urban area," said Jeff Randazzo, the head animal control officer in Macomb County.
Randazzo, who is also president of the Michigan Association of Animal Control Officers, said the county crafted its policy to specifically address whether an animal is exotic or not. And that includes caracals. 
Without explicit rules, deciding whose job it is to catch a missing pet and how to approach it can get tricky - especially when they have a tendency to escape multiple times.
"That's where I think the problem comes in. You don't know whose going to try to catch that. That's why it's one of these situations where it's always good to have an ordinance to address it," he said. "Otherwise, it could be extremely dangerous."
Contrast that with neighboring Oakland County, which has no law limiting the ownership of exotic pets like caracals, according to the animal control department. 
Yet, as Royal Oak police noted in a statement this week, the owner's "inability to keep the animals contained on her property" has escalated to the department to "strongly encourage her" to move them. 
Heather Ineich, with South Lyon Murphy Animal Recovery, helped capture the cat.
"These cats have been there for two years and no incidents. Even if they got out, there was no incident at all," she said.
The owner of the caracals said she is looking for an attorney because she was issued five citations. She said Friday that she plans to leave with the animals by Monday.
"It was kind of morphed into this big, scary thing," Ineich said. "I think that she should leave because so many people treated her so badly."