Armed men in masks holdup postal carriers in Taylor - but not for mail
TAYLOR, Mich. (FOX 2) - Three men in masks allegedly put a gun in the back of a US postal worker recently in Taylor - but it wasn't mail they were after - instead a piece of USPS equipment.
It has happened twice in the city this past month - and Taylor police are putting the trio of suspects on notice.
"You can run but you can't hide," said Lt. Frank Canning, Taylor PD.
The most recent incident happened on Monday morning.
"They are just out there doing their job, and 11 o'clock, it's a nice fall morning and it's the last thing you would expect to happen," he said.
It happened at the Courtyards townhomes – off Eureka, near Beech Daly.
"A female postal carrier was loading the mailbox when she was approached by three Black males with masks," Canning said.
On video you can see the black getaway pickup truck pulled up right next to the USPS truck, the trio out of frame.
"One produced a long gun, put it in her back, told her they don't want her to get hurt," Canning said.
They weren't after mail – sources tell us they were trying to get equipment that can get them access to multi-unit mailboxes like apartments or condos use.
Canning says they drove off in the all-black Dodge Ram. The good news is, police have solid leads.
"Street cameras, busienss cameras, we are pretty well equipped to track the movement of these folks," he said.
A similar situation happened a couple weeks ago a half mile away, this time at the Ponds Townhomes.
A male postal carrier approached by likely the same trio, this time they had a pistol and they were after that same USPS equipment.
Taylor police is working with the US Postal Police – to track these guys. No mail was taken, and there no injuries.
Both complexes are owned by the same company, which released a letter to tenants about the situation. Security will be provided by US postal workers at its complexes until the suspects are caught.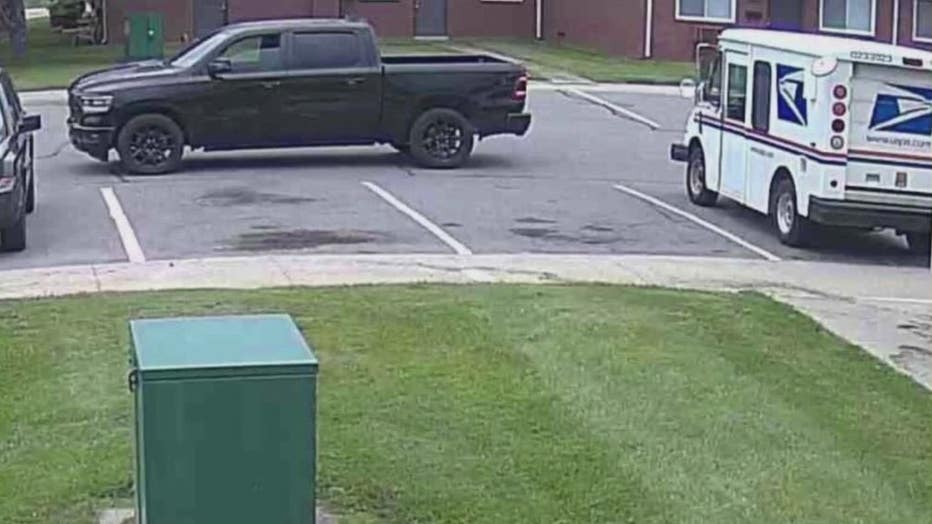 Security camera photo showing the suspects' black Dodge truck on the left.