Arts, Beats & Eats music lineup released -- Here's who will perform at Royal Oak festival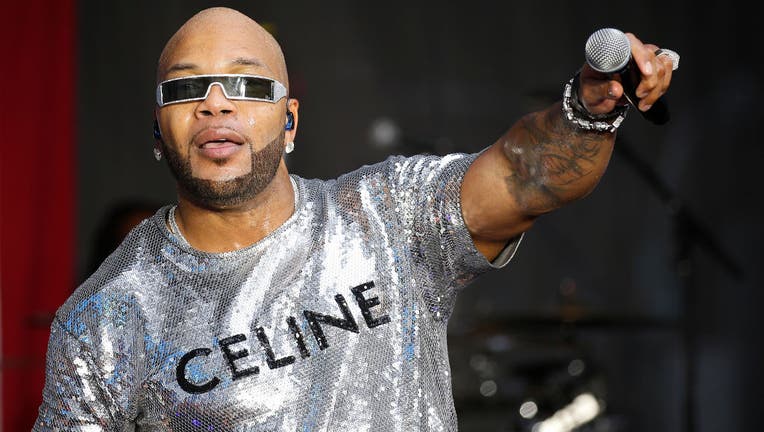 article
ROYAL OAK, Mich. (FOX 2) - The music schedule for Arts, Beats & Eats includes artists spanning genres.
Headliners at the annual Labor Day Weekend fest in Royal Oak include Fitz & The Tantrums, 311, Sponge, and Flo Rida.
Performers will take to nine stages during the event. 
Check the full entertainment lineup below.
Jim Beam National Stage
Friday, Sept. 2
4:00 PM
Frame 42 (Classic Rock/Rock)
5:30 PM
Tommy DeCarlo - Singer of Boston (Rock)
7:30 PM
Average White Band (Funk/Soul)
9:30 PM
Fitz & The Tantrums (Pop)
Saturday, Sept. 3
10:00 AM
Priority Health Zumbathon (Zumba)
4:00 PM
Jack's Revenge (Rock)
5:00 PM
Beatlemania Live! (Beatles Tribute)
7:30 PM
Chevelle (Rock)
9:30 PM
311 (Alt Rock) 
Sunday, Sept. 4
4:30 PM 
Kira Blue (Country/Pop)
5:45 PM
Jackson Dean (Country)
7:30 PM 
Chase Rice (Country)
9:45 PM 
Sponge (Alt Rock)
Monday, Sept. 5
3:00 PM 
Polish Muslims (Polka Rock)
4:00 PM 
Your Generation In Concert (Tribute/Covers)
6:30 PM 
Rob Base & Montel Jordan (Hip-Hop/R&B)
7:45 PM 
Flo Rida (Hip-Hop/R&B)
Shorts/Old Nation Alternative Rock Stage
Friday, Sept. 2
12:30 PM
Ameera Bandy (Acoustic Variety)
2:00 PM                                
Lee Cleaveland & The Lefthand Band (Rock/Indie)
3:30 PM 
Aaron Lewys (Singer-Songwriter/Pop)
5:00 PM 
Mama Yaya (Acoustic/Pop)
6:30 PM
Griffin Benton (Alternative)
8:00 PM                           
Bryan Hugo Iglesias (Alternative/Indie)
9:45 PM 
Killer Flamingos (Cover Band/Top 40)
Saturday, Sept. 3
12:00 PM 
Stevie Soul wsg Jamss Link (Pop/R&B)
1:15 PM 
Marquette (Alternative)
2:45 PM 
Lyons (Rock/Rockabilly)
4:15 PM 
Syd Burnham (Indie)
5:45 PM 
Lochaven (Rock)
7:15 PM 
If Walls Could Talk (Rock)
8:45 PM 
Jackson & The Pool Sharks (Alternative/Indie)
10:15 PM 
Eva Under Fire (Alternative/Rock)
Sunday, Sept. 4
12:30 PM 
Ella X (Pop)
2:00 PM 
Wake Up Jamie (Singer-Songwriter/Americana)
3:30 PM 
Rachel Curtis (Singer-Songwriter/Pop)
5:00 PM                         
Edison Hollow (Rock/Classic Rock)
6:30 PM 
In Flow (Dan Tillery) (Acoustic Variety)
8:00 PM 
Hacky Turtles (Alternative)
9:45 PM 
Lewis "Louie Lee" Hensley (Country Hop & Roll)
Monday, Sept. 5
12:15 PM 
Good Greene (Alternative Hip-Hop)
1:45 PM 
Remnose (Alternative/Indie)
3:15 PM 
Reuther (Rock/Punk)
4:45 PM 
Those Legs (Indie)
6:15 PM 
Nadim Azzam (Alternative/Hip-Hop)
8:00 PM 
Autumn Kings (Alt Rock)
Soaring Eagle Casino & Resort Rock Stage
Friday, Sept. 2
11:00 AM 
The Detroit School of Rock and Pop Music (Rock)
3:30 PM 
No Requests (Indie Rock)
5:00 PM 
Kougaran (Rock/Hard Rock)
6:30 PM 
Spiral Crush (Rock)
8:00 PM 
The Santana Project (Santana Tribute Band)
9:45 PM 
Sunset Blvd (Tribute Band)
Saturday, Sept. 3
12:15 PM 
Brett Mitchell & the Mitchfits (Indie)
1:45 PM 
All Grown Up (Rock/Classic Rock)
3:15 PM
Slowfoot (Blues/Rock)
4:45 PM 
The Ruiners (Garage/Punk)
6:15 PM 
Johnny Bee & The Murder Hornets (Rock & Roll)
7:45 PM 
Eliza Neals (Blues/Rock)
9:45 PM
Tino G's Dumpster Machine (Blues)
Sunday, Sept. 4
12:15 PM 
Five Ninety Five (Acoustic/Pop)
1:45 PM                         
Delta Twins (Blues/Rock)
3:15 PM 
George Aneed (Rock)
4:45 PM 
The Science Fair (Rock/Indie)
6:15 PM 
Visitor (Rock)
7:45 PM 
Cast Iron Cornbread (Rock)
9:45 PM 
Stone Clover (Celtic/Rock)
Monday, Sept. 5
12:00 PM 
Nick & Keelan (Acoustic Variety Top 40 Covers)
1:30 PM 
J Michael & The Heavy Burden (Acoustic/Folk Rock)
3:00 PM 
BandWagon  (Alternative/Classic Rock)
4:30 PM 
Chris Canas Band (Blues/Soul)
6:00 PM 
Standing Room Only (Rock/Classic Rock )
7:45 PM 
The Reefermen (Rock)
Baker College Country/Americana Stage
Friday, Sept. 2
12:15 PM 
Phoebe Holmes (Acoustic/Americana)
1:45 PM 
Corey Dakota (Americana/Alt Rock)
3:15 PM 
Jennifer Westwood & Dylan Dunbar (HonkyTonk/Soul)
4:45 PM 
Cold Tone Harvest (Americana/Roots)
6:15 PM 
Audrey Ray (Country)
7:45 PM 
Alan Turner (Country/Rock)
9:45 PM 
Taylor Tucky (Country/Rock)
Saturday, Sept. 3
12:15 PM 
Nick Fugedi (Acoustic/Americana)
1:45 PM                          
Midnight Proof (Americana)
3:15 PM
The Steve Taylor Three 
(Americana)
4:45 PM 
Matthew James Adkins & The High Hillcrest Band (Country)
6:15 PM 
Billy Gunther & The Midwest Riders (Country/ Rock)
7:45 PM 
Joe Jaber & The Last Divide (Americana/Rock)
9:45 PM 
Shiatown (Country)
Sunday, Sept. 4
12:15 PM 
Mike Leslie (Singer-Songwriter/Americana)
1:45 PM 
Creature of One (Americana)
3:15 PM 
Wrenfields  (Americana)
4:45 PM 
Katelynn Corll (Americana)
6:15 PM 
One Ton Trolley (Americana/Rock)
7:45 PM 
Joey Vee (Country)
9:45 PM 
Julianne Ankley & The Rogues (Americana/Country)
Monday, Sept. 5
12:00 PM 
Leonardo (Acoustic/Americana)
1:30 PM 
Hard Luck Pete & The Wrong Way Streets (Country)
3:00 PM 
Jacki Danies Show (Pop/Country)
4:30 PM 
Kate Hinote Trio (Alternative/Folk)
6:00 PM 
Tyler Roy (Country/ Rock)
7:45 PM 
The Orbitsuns (Old School Country/Outlaw Country)
Michigan Lottery R&B Stage
Friday, Sept. 2
12:30 PM
JonPaul Wallace (Pop)
2:00 PM 
Kirby Lashae (Alternative/Soul)
3:30 PM 
The Further Adventures of FatBoy and JiveTurkey (Jazz/Blues)
5:00 PM 
Gwenyth Hayes (Neo-Soul/Jazz)
6:30 PM 
The Brett Lucas Band (Blues/Rock)
8:00 PM 
Laura Rain and the Caesars (Soul)
9:45 PM 
Thornetta Davis (R&B/Soul)
Saturday, Sept. 3
12:30 PM
Rick Hicks (Blues/Soul)
2:00 PM
Steely Bran's Dreamboat Lovers (Jazz)
3:30 PM 
Ryn Scott (Rock/Hip-Hop)
5:00 PM 
My Detroit Players (Jazz/Funk)
6:30 PM 
Damon Terrell (Jazz/Funk)
8:00 PM 
Valerie Barrymore & Foundation of Funk (Funk/Soul)
9:45 PM 
Larry Lee & Back in The Day Band (R&B/Funk)
Sunday, Sept. 4
12:30 PM
DXRYK (R&B/Soul)
2:00 PM 
Mason Bays Quintet (Jazz/Funk)
3:30 PM
Emmanuelle Jacob (Pop/R&B)
5:00 PM
Sky Covington (Jazz)
6:30 PM 
Funkwagon (Funk/Soul)
8:00 PM 
Drey Skonie and The kLouds Band  (Pop/R&B)
9:45 PM 
Alise King (R&B/Soul)
Monday, Sept. 5
12:15 AM 
Kenyatta Rashon (R&B)
1:45 PM 
The No Boundaries Quartet (Jazz/Funk)
3:15 PM 
Weebone Entertainment (Neo-Soul/R&B)
4:45 PM 
Denise Davis and the Motor City Sensations (Motown)
6:15 PM 
Nique Love Rhodes & the NLR Experience (Alternative/Hip Hop)
8:00 PM 
The Persuasion Band  (Party Music)
Flagstar Bank International Stage
Friday, Sept. 2
12:30 PM                          
Enda Reilly (Celtic/Folk)
2:00 PM
Ironwood (Celtic/Folk)
3:30 PM
Black Murray (Celtic/Folk)
5:00 PM 
Aaron Parrott & Milenium Heat (Steel Drum)
6:30 PM 
Hya Level (Reggae/Rock)
8:00 PM 
HWT [Half Way There] (Reggae/Rock)
9:45 PM 
Martin Chaparro MC3 (Latin/Reggae)
Saturday, Sept. 3
12:30 PM 
Gerard Smith (Celtic/Folk)
2:00 PM
Victor Samalot Duo (Latin/Jazz)
3:30 PM                                       
Tri-County Bollywood Ensemble (Popular Indian)
5:00 PM                                   
On the Lash (Celtic/Folk)
6:30 PM 
Raion Taiko - Great Lakes Taiko Center (World Music)
8:00 PM 
Leaving Lifted (Reggae/Rock)
9:45 PM 
Roots Vibrations (Reggae, Soca)
Sunday, Sept. 4
12:30 PM
Bossa Fresca Trio (Brazilian/World Music)
2:00 PM                                       
Desert Island (World Music)
3:30 PM                                       
Trio Ureña (Jazz/Fusion)
5:00 PM 
Os Clavelitos (Brazilian/World Music)
6:30 PM 
The Z Cats (Bill Harrison)(Zydeco)
8:00 PM 
King Mellowman and Mellow Runnings (Reggae/Soul)
9:45 PM 
Sean Blackman's In Transit (World Fusion)
Monday, Sept. 5
12:15 PM
Celtic Isles (Celtic/Folk)
1:45 PM
Ammy Amorette (World Music)
3:15 PM
Uprizin Band (Reggae/Calypso)
4:45 PM 
El Duo Escobar (Cumbia)
6:15 PM 
Grupo Illusion (Conjunto/Tejano)
8:00 PM                                  
Harper and Midwest Kind (World Roots)
OCC Cultural/Acoustic Stage 
Friday, Sept. 2
12:00 PM
ABE Visual Art - Artist Demo
12:45 PM
RO Children's Choir with Mayflower Music MI (Singer-Songwriter/Pop)
3:00 PM 
Sweet Season (Acoustic Variety)
4:15 PM
ABE Visual Art - Artist Demo
5:15 PM
Djangophonique Duo (Gypsy Jazz)
6:45 PM 
Birds of Prey (Americana/Bluegrass)
Saturday, Sept. 3
12:00 PM
ABE Visual Art - Artist Demo
12:45 PM                        
Tifani VanDenBerg (Folk/Americana)
2:00 PM 
Stage Crafters - Little Shop of Horrors
2:30 PM
The Real Dan Minard (Acoustic Variety)
3:45 PM
ABE Visual Art - Artist Demo
4:45 PM
Jake Allen (Acoustic/Indie)
6:30 PM 
The Aston Neighborhood Pleasure Club (Modern Vintage)
Sunday, Sept. 4
12:00 PM
ABE Visual Art - Artist Demo
12:45 PM
Rob Massard (Acoustic/Folk Rock)
2:00 PM
Dan Hazlett (Acoustic Variety)      
3:15 PM
Mark Reitenga Duo (Acoustic Folk Rock)
4:30 PM
ABE Visual Art - Artist Demo
5:30 PM
Raven Grey (Acoustic/Americana)      
7:00 PM 
Voxanna (Acoustic Variety)
Monday, Sept. 5
12:00 PM
ABE Visual Art - Artist Demo
12:45 PM 
Taylor DeRousse (Acoustic Variety)
2:00 PM 
AcousticAsh (Acoustic Variety)
3:30 PM 
Acoustic Madness (Acoustic/Americana)
House Of Dank Performance Area
Friday, Sept. 2
12:00 PM
CTYHOP® Silent Disco Presents:  
DJ Kaely Kellz (House & Energetic) and DJ QURL (Electronic)
5:30 PM
Movement Detroit Presents
7:30 PM
Movement Detroit Presents
9:30 PM
Movement Detroit Presents
Saturday, Sept. 3
12:00 PM
CTYHOP® Silent Disco Presents:
DJ Rue (Hip-Hop/Pop)
5:00 PM
Movement Detroit Presents
7:30 PM 
Movement Detroit Presents
9:30 PM 
Movement Detroit Presents
Sunday, Sept. 4
12:00 PM
CTYHOP® Silent Disco Presents:
DJ Rue (Hip-Hop/Pop)
4:45 PM 
Movement Detroit Presents
6:15 PM
Movement Detroit Presents
7:45 PM
Movement Detroit Presents
9:45 PM
Movement Detroit Presents
Monday, Sept. 5
12:00 PM
CTYHOP® Silent Disco Presents:  
DJ Kaely Kellz (House & Energetic) and DJ QURL (Electronic)
4:00 PM
Movement Detroit Presents
6:30 PM 
Movement Detroit Presents
7:45 PM
Movement Detroit Presents
Detroit Institute Of Arts Kids Stage
Friday, Sept. 2
11:15 AM
Amazing Clark Magic Show
11:55 AM
Authentic Native American Dance Ho Chunk Nation presented by Detroit Institute of Arts
12:45 PM
Michigan Science Center Presents:
1:30 PM 
Filipinix
2:00 PM
Amazing Clark Magic Show
2:45 PM
Juggler Tim Salisbury
3:30 PM 
Michigan Science Center Presents:
4:15 PM
Magic W/ Randyl Lee
5:00 PM 
Juggler Tim Salisbury
5:45 PM 
Michigan Science Center Presents:
6:30 PM
Magic W/ Randyl Lee
7:30 PM
Konundrum (EDM)
8:30 PM
Versace James (House)
9:30 PM
Detroit Techno Militia (Electronic/Dance Music)
Saturday, Sept. 3
11:30 AM
Zippity 2Dads: 2 Guys & A Guitar
12:00 PM
Ballet Folklorio
12:53 PM
Revolution Chinese YoYo
1:15 PM
Michigan Science Center Presents:
1:53 PM
Revolution Chinese YoYo
2:15 PM 
Zippity 2Dads: 2 Guys & A Guitar
2:53 PM
Revolution Chinese YoYo
3:15 PM
Michigan Science Center Presents:
4:00 PM
Mathangi Dance Company
4:45 PM 
Cool Tricks & Funny Stuff
5:30 PM
Michigan Science Center Presents:
6:15 PM 
Cool Tricks & Funny Stuff
7:30 PM
DJ Katalyst (Funk/Party Music)
7:30 PM
DJ Dav (Open Format)
9:30 PM
5th Dimension (Dance Music)
Sunday, Sept. 4
11:30 AM
"The Adventures of Kitty Montellier" by Flying Cardboard Theater
12:30 PM
Michigan Science Center Presents:
1:15 PM 
Jo-Jo Fish Puppet Show
2:00 PM 
Cool Tricks & Funny Stuff
2:30 PM
Michigan Science Center Presents: 'Eureka!'  
3:30 PM 
Jo-Jo Fish Puppet Show
4:15 PM
NatSpinz
5:15 PM
Michigan Science Center Presents:
5:30 PM 
Juggler Tim Salisbury
6:00 PM 
Cool Tricks & Funny Stuff
6:30 PM
NatSpinz
7:30 PM
DJ Gina Marie (House)
8:30 PM 
Dru Ruiz (Open Format)
9:30 PM 
DJ Seoul (Techno/House)
Monday, Sept. 5
11:30 AM
"The Adventures of Kitty Montellier" by Flying Cardboard Theater
12:30 PM
Kevin Devine's Rollicking Music Show
1:15 PM 
Magic W/ Randyl Lee
2:00 PM
NatSpinz
2:45 PM
Kevin Devine's Rollicking Music Show
3:30 PM 
Magic W/ Randyl Lee
4:15 PM
NatSpinz
5:00 PM 
Cool Tricks & Funny Stuff
5:45 PM 
Kevin Devine's Rollicking Music Show
6:30 PM 
Cool Tricks & Funny Stuff