President-elect Joe Biden receives first dose of Pfizer COVID-19 vaccine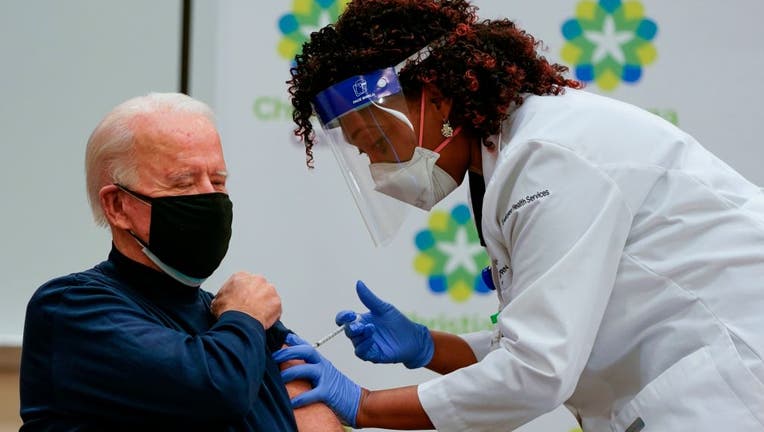 article
President-elect Joe Biden received his first round of the COVID-19 vaccine Monday on live television and urged Americans to get the shot as it becomes available to them, part of a growing effort to convince the public that the inoculations are safe.
The president-elect received a dose of Pfizer vaccine at a hospital not far from his Delaware home, hours after his wife, Jill Biden, did the same.
"I'm ready," said Biden, who was administered the dose at a hospital in Newark, Delaware, and declined the option to count to three before the needle was inserted into his left arm. "I'm doing this to demonstrate that people should be prepared when it's available to take the vaccine. There's nothing to worry about."
Biden praised the health care workers and said President Donald Trump's administration "deserves some credit getting this off the ground." And Biden urged Americans to wear masks during the upcoming Christmas holiday and not travel unless necessary.
The U.S. Food and Drug Administration authorized two vaccines for emergency use this month in the U.S. The first, developed by Pfizer-BioNTech, began arriving at hospitals and long-term care facilities last week and started being used. A second vaccine produced by Moderna Inc. and the National Institutes of Health received approval Dec. 18 and also started arriving at sites nationwide.
Top lawmakers began receiving doses of the vaccine publicly, including Vice President Mike Pence, House Speaker Nancy Pelosi, D-Calif., and Senate Majority Leader Mitch McConnell, R-Ky., in an effort to convince Americans that the vaccines are safe and effective against COVID-19.
Former presidents Barack Obama, George W. Bush and Bill Clinton have committed to doing the same.
Vice President-elect Kamala Harris will receive her first vaccine dose next week. According to FOX News, the vaccinations were being staggered to prevent Biden and Harris from developing potential side effects at the same time.
Former presidents Barack Obama, George W. Bush and Bill Clinton have committed to doing the same.
RELATED: Bush, Obama, Clinton say they'd get COVID-19 vaccine publicly to boost confidence
Trump has not said when he intends to get the vaccine. He tweeted earlier this month that he was "not scheduled" to take it, but said he looked "forward to doing so at the appropriate time."
The White House has said he is still discussing timing with his doctors.
Trump was hospitalized with COVID-19 in October and given an experimental monoclonal antibody treatment that he credited for his swift recovery. A Centers for Disease Control and Prevention advisory board has said people who received that treatment should wait at least 90 days to be vaccinated to avoid any potential interference.
"When the time is right, I'm sure he will remain willing to take it," White House spokesperson Brian Morgenstern echoed Friday. "It's just something we're working through."
White House press secretary Kayleigh McEnany, however, offered a different explanation for the delay. She told reporters last week that Trump was holding off, in part, "to show Americans that our priority are the most vulnerable."
"The president wants to send a parallel message, which is, you know, our long-term care facility residents and our frontline workers are paramount in importance, and he wants to set an example in that regard," she said.
The first wave of vaccinations across the country are being reserved for health workers and elder-care patients, with hundreds of millions more shots needed over the coming months to protect most Americans.
To date, nearly 18 million Americans have contracted the virus, and more than 317,000 people have died from COVID-19 in the U.S., according to Johns Hopkins University.
This story was reported from Atlanta and Cincinnati. The Associated Press contributed.