Bodycam shows rescue of woman who fell off Harrison Township dock into icy water
HARRISON TWP, Mich. - One young woman is impressing upon anyone who might go fishing this winter: Always fish with a partner.
Also: wear non-slip, footwear anywhere that's slippery.
Both lessons stem from a scary incident Monday afternoon when the woman slipped off the dock while fishing with a friend.
Around 3:20 p.m., deputies from the Macomb County Sheriff's Office responded to reports of someone who had fallen off a dock in Harrison Township. When she attempted to stand up, she lost her footing and slipped off the dock into the freezing water.
Her friend was one dock over and heard the fall before seeing her friend struggle in the icy waters.
"I could not thank them enough," said Korisa Miller, who was pulled to safety by a deputy and two strangers.
Miller and Kozlowski were sitting on a dock at the Beacon Cove Marina. Luckily nearby, two other men were also fishing, named Joe and Mark - they would become her rescuers.
"They acted so quick, they didn't think about it, they ran right to us," said Kozlowski.
"We met them earlier and were sharing fishing stories about how much we love it," Miller said.
But all of a sudden Miller went into the water.
"I was turning around and I lost my grip somehow. That part is a little fuzzy," Miller said. "After two minutes of me being in there, from the waist down was completely numb. I couldn't feel my feet."
The two strangers rushed to her aid while Melissa called 911.
"They took off my jacket and sweater because it was choking me," Miller said. "That's why I was in a tank top, I didn't go there in a tank top."
About 15 minutes later she was safe on her way to the hospital, 
"We did not think that anything like this could happen," Miller said. "We weren't on the ice. We were on the dock. It was a freak accident if we had a life jacket they could have laid on the thick ice and pulled me up."
Despite being in the water for that long, she emerged relatively unharmed and despite frost bitten toes and a sore shoulder, she plans to ice fishing again this time with extra precautions. 
As her friend struggled to pull the woman out of the water, her body began to go numb. Two nearby fishermen who heard the women's cries came over to help but were also unable to pull her out of the water - by then, her body had grown completely numb and was unable to move.
While the fishermen held onto the woman to keep her from drowning, police from the Macomb County Sheriff's Office along with the Harrison Fire Department arrived on scene and pulled the lady out of the water.
The woman was likely in the 36-degree water for 15 minutes.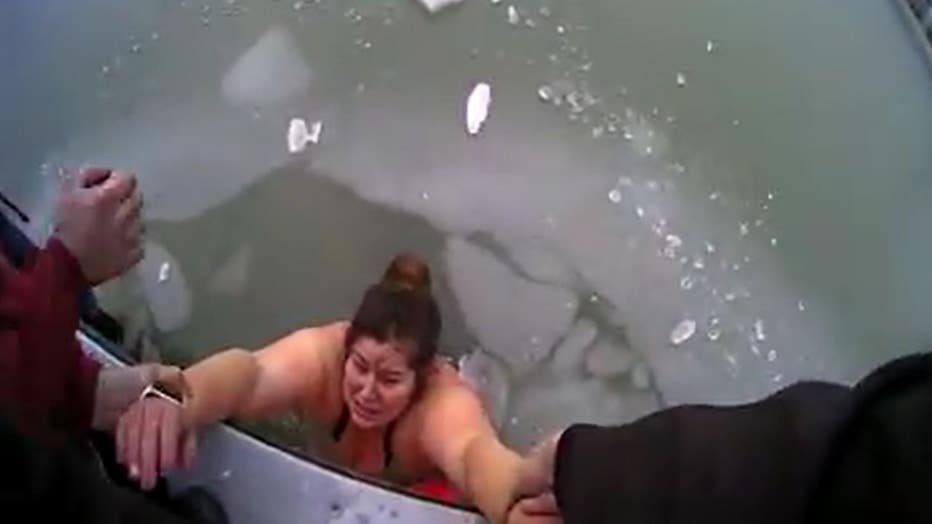 In response to the incident, police warn anyone venturing onto icy surfaces and or finds themselves in a similar situation to follow these steps:
Don't panic. Try to get control of your breathing. Hold onto something or stay as still as possible until your breathing settles down. It may be a boat, a fixed object, or something floating. Focus on floating with your head above water until the cold shock response abates
If multiple people fall into cold water, huddling in a group lessens the loss of body heat and is good for morale. Also, rescuers can spot a group more easily than individuals
If you were not wearing a PFD when you entered the water, look to see if one is floating around you and put it on immediately. Don't take your clothes off unless absolutely necessary. A layer of water trapped inside your clothing will help insulate you
Get as much of your body out of the water as possible. Even though you may feel colder out of the water, the rate of heat loss will be slower than if immersed in water
If you cannot get out of the water quickly, act to protect against rapid heat loss. In as little as 10 minutes, you may be unable to self-rescue. Your focus now should be to slow heat loss
Safety typically looks closer than it actually is, so staying with the boat is usually a better choice than swimming
Adopt a position to reduce heat loss. If alone, use the HELP (Heat Escape Lessening Posture) position; or if there are others in the water with you, huddle together. The HELP position looks similar to the fetal position
If you must swim, conserve energy and minimize movement. Swim on your back with your upper arms against the sides of your chest, your thighs together, and your knees bent. Flutter-kick with your lower legs
Be prepared at all times to signal rescuers
Seek medical help immediately