Bond can't be raised for man charged with shooting woman in carjacking, judge rules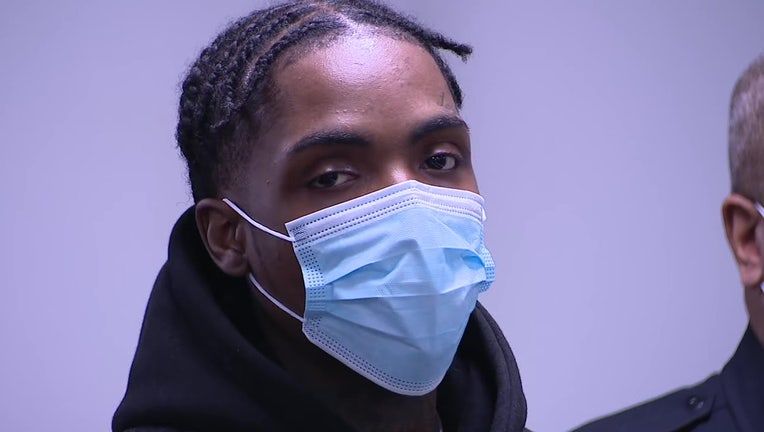 article
DETROIT (FOX 2) - A man charged with shooting a 19-year-old Detroit woman during a carjacking in December has been free on bond for a week after a judge lowered his $1 million bond to $250,000. On Friday, another judge has ruled that the bond can't be increased at this time.
Torrion Hudson's initial bond was $1 million before being lowered to a $250,000 cash or surety bond. Hudson is charged with shooting the teenager at a Detroit gas station on Livernois back on December 21. 
On Tuesday, the victim's mother, Keta, told FOX 2 she was paying a parking ticket at 36th District Court when she learned the suspect charged with shooting her daughter was released last Friday. Her daughter, Kyla, was hospitalized when she was shot and has had several surgeries already.
According to police, the teenager got into an argument with the suspect before he pulled a gun, got into her car, took her necklace, and then shot her before getting away.
Police later found and arrested the suspect - who has a criminal history - with the help of a helicopter.
After Hudson was arrested, he was ordered held on a $1 million cash bond. But last week, the girl's mother, Keta, learned Judge Larry Williams lowered the bond, citing mental health. FOX 2 has reached out to Williams for answers but we have not heard back
WATCH: Mother of shooting victim livid judge reduced suspect's bond, allowing him to get out of jail
The Wayne County Prosecutor's Office says this case illustrates major flaws in serious felony cases and had sought, at the very least, a GPS tether would be added to Hudson's bond conditions.
"This case shows the inherent flaws in the 36 District Court bond redetermination hearings. Most of the bonds are being reviewed 24-48 hours after they are initially set. They are mainly reduced because the defendant could not make bond without time for a thoughtful consideration of other issues concerning the safety of the victim and the public in serious felony cases."
On Friday, Hudson was in front of a different judge, Patricia Jefferson, for an emergency motion where the judge ruled that she could not restore his bond to $1 million. 
The prosecution had argued that Hudson was a flight risk due to a previous charge in Macomb County, which was not presented to judge Williams.
"He's been given a $250,000 cash surety bond, which I must say, in this jurisdiction, is a bond that's not normally met," Judge Jefferson said. "This defendant has been able to have that bond posted, he's come to court today, he's not violated any bond. The only additional issue being presented to the court is…a case that allegedly was committed before this act."
That case, the prosecution said, was a fleeing and eluding charge. 
"This defendant has a history of fleeing from police and not coming to court," the prosecuting attorney said.
Judge Jefferson said the Macomb County charge should have been brought up during the bond reduction hearing last week. She said she had no ability to increase the bond to $1 million. However, the GPS tether and house arrest was added to Hudson's bond conditions.
"The court expressed that legally she did not believe she could change bond without new information, or a violation given that another similarly seated judge set the bond. If any violations occur, we will return to court to address bond again."
The bond conditions could still reviewed again during Hudson's preliminary exam.
Outside of the courtroom on Friday, Keta got into a screaming argument with another group where she yelled "I hope you die. and your kids die. and he dies."
She then composed herself and explained she understood that Judge Jefferson couldn't rule Hudson's bond had to be higher.
"I'm very upset. I'm visibly upset about the situation. I understand this judge cannot override the prior judge's decision but she did put him on tether. But i'm sitll upset that he's able to be free after the egregious thing that he did to my child," Keta said.
She said she wants the original $1 million bond to be reinstated and promised to fight to get him back in jail.
"It's not fair to the victims. It's not fair to the 99% off the people that live in this wonderful city of Detroit to be revictimized by these criminals, and the courts are allowing it to happen," Keta said.
She also expressed appreciation for the Wayne County Prosecutor's and Detroit's 10th Police Precinct.
"They did what they said they were going to do. I appreciate everyone's efforts in apprehending the suspect," Keta said.
Keta has started a GoFundMe page to raise funds for medical expenses. GO HERE to donate.