Cheez-It stashes bunker of Cheez-it Snap'd somewhere in US - and you could find it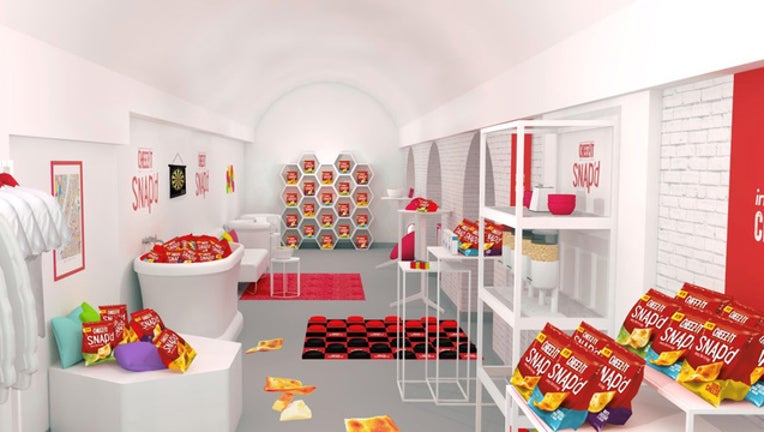 (FOX 2) - Prepare for the cheesiest treasure hunt of all time. Cheez-It has stashed a "bunker" full of a year's supply of Cheez-It Snap'd and will be dropping hints on social media for someone to find it - and score a year's supply of snacks. 
Cheez-It, owned by the Battle Creek-based Kellogg's, announced Tuesday that it is "genuinely concerned about an impending cheese shortage" because of the popularity over Snap'd. 
As a result, the company hid a bunker of their new product, described as "super thin, crispy, munchable snack with real cheese inside and out" somewhere in America.
The question of where wasn't released. The company says it's being kept a secret until it starts revealing clues next Tuesday - but says it could be tucked away in a cheese cave, an old cellar or a retired subway tunnel.
"Our fans love a great snack and Cheez-It Snap'd offers them a completely new experience," said Jeff Delonis, senior director of marketing for Cheez-It. "So thin and crispy, the unique texture and distinct flavors make it different from any other Cheez-It offering-and any other snack out there! After seeing the snack fly off shelves, we wanted to ensure Cheez-it Snap'd were kept safe for our biggest cheese-loving fans."
Cheez-It will start tweeting out clues on May 14th and the first person who finds it can score a stash of Snap'd plus the loot inside: a yearlong streaming service subscription, a giant flat-screen television and more.
Check out Cheez-It on Twitter for updates starting next week.