Clip shows suspect fleeing murder scene at Woodward Inn
DETROIT (FOX 2) - Michigan State Police have posted a clip online showing the suspected perpetrator in a woman's homicide that happened at the Woodward Inn last week.
State police say they were contacted by Highland Park police to help investigate a woman's death after she was found inside an apartment unit at a motel complex off of Woodward Avenue on June 2.
Highland Park police originally said they got a 911 call from someone who noticed the door was open to one of the units. Inside, 34-year-old woman was found dead. 
Tuesday morning, police posted surveillance video that showed a man walking into the complex at night, across the parking lot before entering a home. The video cuts to the man running out of the room and out of the camera shot.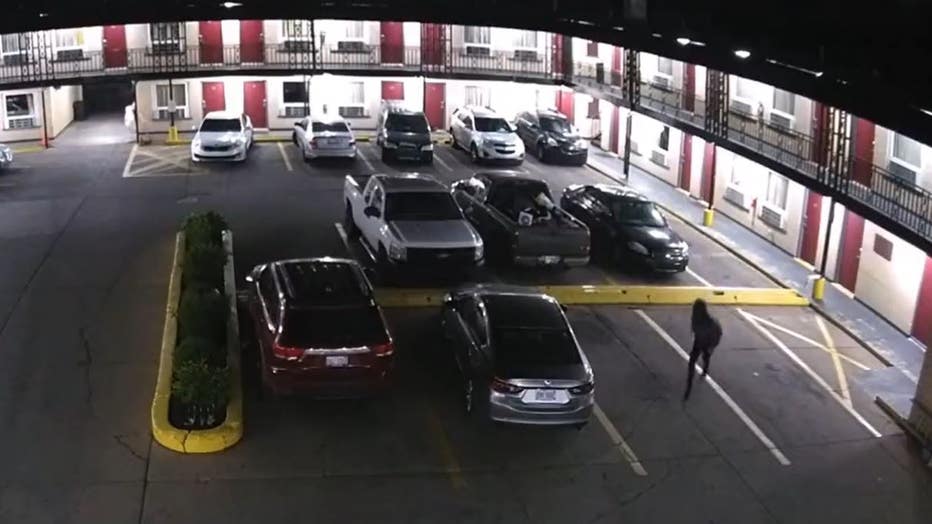 Police hope someone who sees the footage will recognize the person and help officers identify him.
In it, he's wearing a blue hooded sweatshirt, black Adidas jogging pants with white stripes on the legs, and black Nike shoes. 
"While the video is from a distance and the photo is blurry we are hopeful that someone will recognize this person." 1st Lt. Mike Shaw said. "If you believe you know this person or have any other information on this case call 855-MICH-TIP or Crime Stoppers at 800-SPEAK-UP."