COVID-19 vaccines in pregnant women may protect newborns, study shows
ATLANTA - COVID-19 vaccination during pregnancy is already recommended to prevent severe illness and death in pregnant women, but a new study shows the vaccine may also protect a mother's newborn baby. 
According to the study, published Tuesday by the Centers for Disease Control and Prevention, completion of a two-dose COVID-19 vaccination series during pregnancy may help prevent hospitalization from the virus among infants who are less than six months old.
A group of researchers at the Overcoming COVID-19 network conducted the study at 20 pediatric hospitals in 17 states between July 1, 2021 and Jan. 17, 2022. 
Among 176 hospitalized infants with COVID-19 aged less than six months, 84% were born to mothers who were not vaccinated during pregnancy.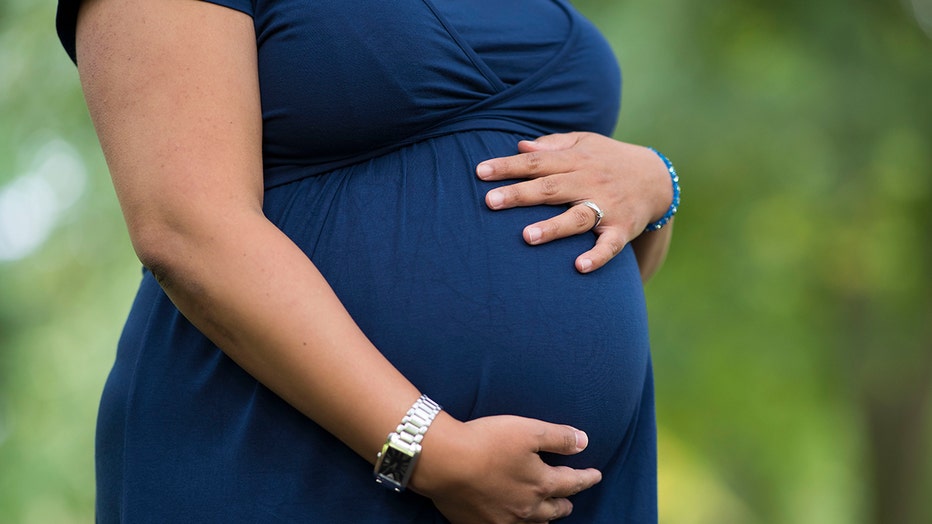 A pregnant woman holds her belly on September 27, 2016 in Cardiff, United Kingdom. (Photo by Matthew Horwood/Getty Images)
Subsequently, the effectiveness of maternal vaccination of a 2-dose mRNA COVID-19 vaccine during pregnancy against COVID-19 hospitalization in infants was 61%, showing completion of vaccination during pregnancy was associated with reduced risk for COVID-19-associated hospitalizations in newborn babies. 
The study also found protection was higher among infants whose mothers were vaccinated later in pregnancy as opposed to earlier on.
"This study provides real-world evidence of the protection of COVID-19 vaccination completed during pregnancy in preventing hospitalization and severe complications in infants," the CDC told FOX Television Stations Group. "Before this evaluation we did not have epidemiologic studies demonstrating this, so we were very excited to share these findings. We believe this is the type of evidence soon-to-be mothers and pregnant women were looking for, and will help inform decisions to vaccinate as soon as possible."
The authors noted some limitations, including the inability to assess specific variants. During the time period of the study, the delta variant was the predominant variant in the United States through mid-December, after which the omicron variant became the predominant strain.
The analysis also did not assess whether the pregnant women were infected with COVID-19 before or during pregnancy, which may have provided maternal antibodies and affected the outcome.
Antibody transfer in pregnant women
Evidence from other vaccine-preventable diseases suggests that maternal immunization can provide protection to infants, especially during the high-risk first six months of life, through passive transplacental antibody transfer. 
Meanwhile, recent studies of COVID-19 vaccination during pregnancy suggest the possibility of transplacental transfer of COVID-19-specific antibodies that might provide protection to infants.
A study released in September by NYU Langone Health in New York City, looked at 36 newborns whose mothers received either the Pfizer or Moderna vaccine during pregnancy.
Researchers found 100% of those infants had protective antibodies at birth, suggesting protection from COVID-19 in a newborn.
CDC recommends COVID-19 vaccine for pregnant women
Currently, the CDC recommends that women who are pregnant, are breastfeeding, are trying to get pregnant now, or might become pregnant in the future get vaccinated and stay up to date with their COVID-19 vaccinations. 
A study conducted by the CDC last year found the Pfizer and Moderna vaccines appeared to be safe in pregnant women and did "not indicate any obvious safety signals with respect to pregnancy."
COVID-19 during pregnancy is associated with severe illness and death, and pregnant women with COVID-19 are more likely to experience preterm birth, stillbirth, and other pregnancy complications.
RELATED: 20% of UK's critically ill COVID-19 patients are unvaccinated pregnant women
According to a newly-published nationwide study, pregnant women with COVID-19 may be at a greater risk for common pregnancy complications that progress to something even more serious. 
The study, led by maternal-fetal medicine specialist Dr. Torri Metz at the University of Utah, aimed to expand on this research and found that pregnant individuals with COVID-19 were overall more likely to develop serious complications or die during pregnancy than those who weren't infected.
Metz said the research adds how "people who have SARS-CoV-2 really are at an increased risk of having those common complications progress to something more that can be life-threatening or really serious morbidity."
RELATED: Pregnant women express regret about not getting COVID-19 vaccine
Another CDC study from November showed pregnant women with COVID-19 face increased chances for stillbirths compared with uninfected women, and that risk spiked to four times higher after the delta variant emerged.
In addition, infants are at risk for life-threatening complications from COVID-19, including acute respiratory failure.
The research authors noted additional evaluation should be done to examine the timing of vaccination before pregnancy compared with during pregnancy.