Criticism mounts for Michigan redistricting maps as minorities feel left out
DETROIT (FOX 2) - The men and women in charge of redrawing the state's representation lines, which will determine who represents which areas in Lansing and Washington DC, met for the first time in Detroit on Wednesday to give the public a chance to weigh in,. But criticism is strong as many feel it will remove minority representation.
The Michigan Independent Citizens Redistricting Commission is seeking public input about proposed legislative maps.
Five meetings will be held across the state. They will also be available to watch via Zoom.
The commission began to vote on draft maps earlier this month after seven weeks of creating them. The state constitution requires that at least five public meetings be held to get comments from residents.
The first meeting on Wednesday was at the TCF center where there were people waiting to walk in and give their voice to the commission.
"Detroit is the largest city in the state, it's the Blackest city in the country and the districts that are drawn do not represent that and do not promote Black power or Black issues," said State Sen. Adam Hollier (D) Detroit.
Protesters rallied outside the TCF center and many walked in to testify in front of the commission.
"For shame. This is not what we sent you here to do," one commenter said.
The commission was created in a 2018 vote that was resoundingly approved. The constitutional amendment makes the redistricting process less political by removing the process from the highly partisan legislature and purportedly putting it into the hands of the people.
The Michigan Independent Citizens Redistricting Commission is required to draw maps, where possible, that reflect the state's diverse "communities of interest."
"We need to have our voices heard. We have to have Black representation in the City of Detroit. We are trying to work with this commission. We're trying to emphasize how important it is to have black representation," Rick Blockersaid.
The 13-member commission - four Democrats, four Republicans, and five members who do not affiliate with either party - will soon vote to reshape the state's political boundaries for the next decade.
"These maps were drawn using analysis and an evidence-based data-driven process that show that minority candidates actually get have more of an impact in our legislature, the way these draft maps are configured," commissioner Anthoney Eid said.
Some of those who rallied were concerned about keeping communities and neighborhoods together but that's not always possible.
"I've gotten some feedback we want Oakland County whole. Not all the counties can be that way because of the way that we've got to distribute population," commissioner Douglas Clark said.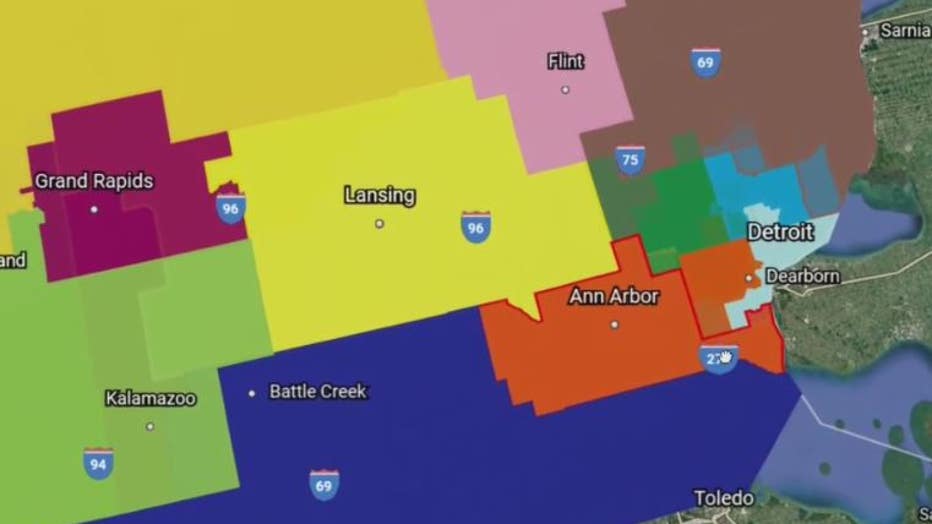 Meeting dates
Wednesday, Oct. 20, from 1-3:30 p.m. and 5-8 p.m. – TCF Center, 1 Washington Blvd., Detroit 48226
Thursday, Oct. 21, from 1-3:30 p.m. and 5-8 p.m. – Lansing Center, 333 E. Michigan Ave., Lansing 48933
Friday, Oct. 22, from 1-3:30 p.m. and 5-8 p.m. – DeVos Place | Steelcase Ballroom, 303 Monroe Ave. NW, Grand Rapids, MI 49503
Monday, Oct. 25, from 1-3:30 p.m. and 5-8 p.m. – Treetops Resort, 3962 Wilkinson Road, Gaylord 49735
Tuesday, Oct. 26, from 1-3:30 p.m. and 5-8 p.m. – Dort Center, 3501 Lapeer Road, Flint 48503
Find details about how to watch the meetings virtually here.
If you cannot attend the meetings or watch on Zoom, there are several ways to give input:
Online – Public Comment Portal
Phone –  Individuals can call 833-YOU-DRAW (833-968-3729) for more information.
Mail – MICRC, P.O. Box 30318, Lansing, MI 48909
For help registering to provide public comment, call 211. This service is available in over 200 languages and is ideal for individuals without internet access.