Dearborn 1-month-old girl abused 'from head to toe', police chief says
DEARBORN, Mich. (FOX 2) - Parents of a 1-month-old in Dearborn are facing child abuse charges after their infant daughter was found with signs of abuse 'from head to toe', according to the police chief.
According to a press release from the Dearborn Police Department, the couple's one-month-old baby was brought to a doctor's office with multiple visible injuries on Sept. 29. Dearborn Police and Fire Department personnel were contacted because the pediatrician believed the injuries were suspicious.
"It's unconscionable to think you'd harm a child - especially a one-month-old baby. There is really no more fragile or precious in life," said Dearborn Police Chief Issa Shahin.
According to Shahin, the little girl showed signs of abuse across her entire body.
"We discovered a one-month-old baby with signs of abuse from head to toe. Unfortunately, she had bruising, signs of strangulation, and broken ribs," Shahin said.
The girl's mother, identified as 31-year-old Amy Taublee, told police she was worried about baby Amaya's condition and took her to a pediatrician. This is the pediatrician who noticed signs of abuse and called Dearborn Police.
"She was concerned about the baby's condition but got nervous when officers arrived," Shahin said.
The was immediately taken to Children's Hospital in Downtown Detroit and is currently in critical condition.
Taublee and the girl's father, 31-year-old Murtadha Almeamaar were both charged on one count of first-degree child abuse. Almeamaar was also charged as a habitual offender. 
Shahin said both have been cooperating with Dearborn Police - to a point. He also said there may be drugs involved in some way.
"The reality is…it's hard to rationalize irrational behavior so their explanations didn't really make sense," he said. "There does appear to be a history of drug abuse with the parents that may play a role in this."
This is the couple's first child and there were no other children inside.
The little girl is critical but stable and investigators are working with Child Protective Services (CPS) to find a safe place for the baby if she makes it out of the hospital.
"We are praying for her and her full recovery," Shahin said.
Taulbee was held on a $100,000 cash bond while Almeamaar was given a cash bond of $250,000. Both must wear a GPS tether if they bond out.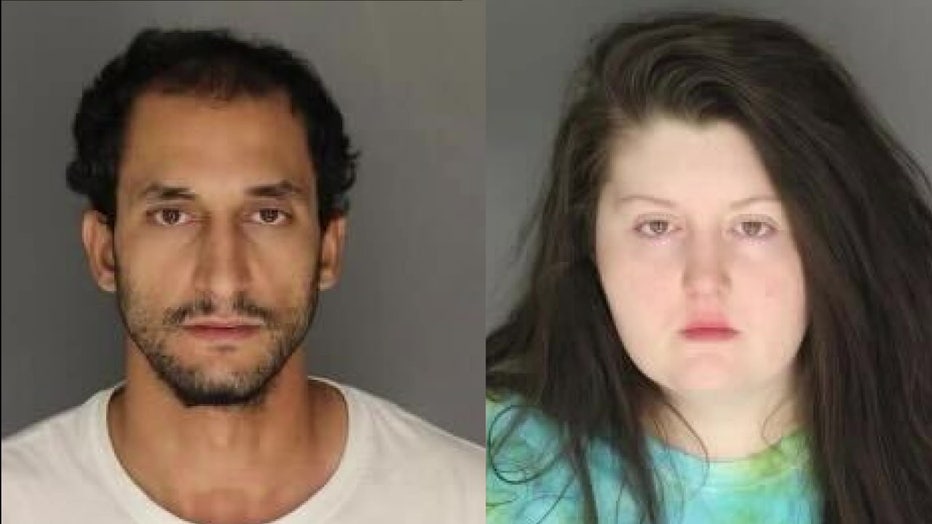 Murtadha Almeamaar (left) and Amy Taulbee are both charged with child abuse after their 1-month-old suffered multiple bruises and signs of strangulation.