Democrat state lawmakers vow action on gun reform after Michigan State mass shooting
LANSING, Mich. (FOX 2) - On Thursday members of the Michigan Senate -- many of whom are graduates of Michigan State -- had their first opportunity to react to the tragic events of Monday night.  
The Senate session began with silence in memory of the three Spartans killed and the five who are fighting to stay alive in the wake of the mass shooting on the MSU campus all within the shadow of the capitol.
"So my senate colleagues, I ask you to rise in a moment of silence for the actions that took place at Michigan State University," said Lt. Gov. Garlin Gilchrist.
The silence was then broken.
"It pains me to watch the university that I love - the students, the faculty, the state, being in such pain," said Democrat State Sen. Sam Singh (East Lansing).
Singh is an MSU graduate and he was not alone.
"I share your anger for the irreversible physical and mental damage inflected by an evil man," said Republican Sen. Michael Webber (Rochester Hills). "And for the inability of our state and nation to stop this senseless violence."
Senator Jeremy Moss (D-Southfield) was an MSU student 16 years ago, attended a vigil like the one in East Lansing last night after the shooting of students at Virginia Tech and now this, at his alma mater.
"I refuse to live in grief without any action, and this new majority will act," Moss said.
Related: Michigan representative angered by MSU shooting: 'F*** your thoughts and prayers'
But one GOP senator advised the Democrats that before they act on safe gun storage legislation or more extensive background checks, they should push for stronger enforcement of the laws already on the books.
Laws that might have keep the MSU killer, Anthony McCrae, from having a car full of weapons.
"While the investigation continues, it seems clear that the evil man who perpetrated this horrific act, should never had been able to get his hands on a gun," said Sen. Jim Runestad (R-White Lake).
Read More: 2019 felony arrest of MSU shooter was reduced to misdemeanor with plea deal
But the new Senate Democratic Leader Winnie Brinks (D-Grand Rapids), whose daughter attends MSU, is promising quick action.
"For those who say it is too soon, they we need to heal first and should not be talking about legislation now, I reject the notion that we can not do both," she said. "I ask you to join me to do everything in our power to do both love and legislate in the coming days and weeks."
Many MSU students are telling lawmakers to act now, but some must be wondering if they will be just like other college students who demanded action after their mass shootings and got none.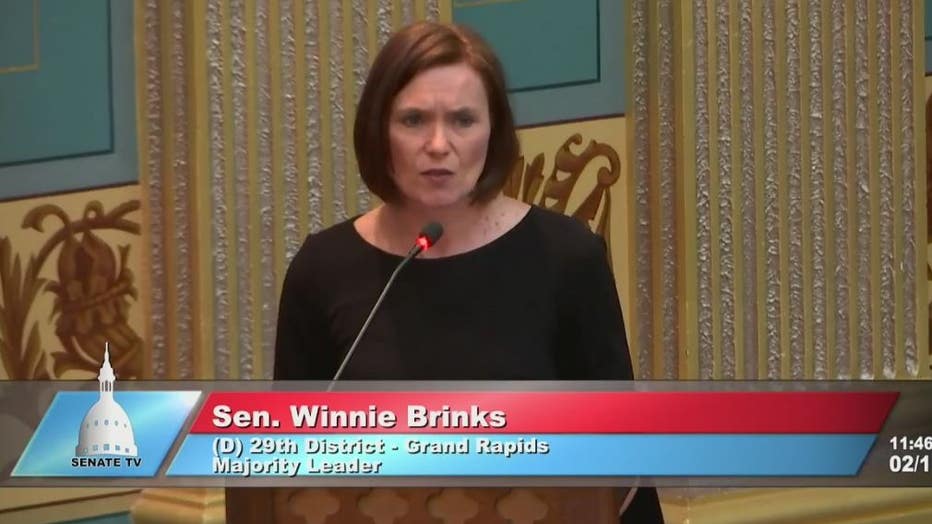 New Senate Democratic Leader Winnie Brinks (Grand Rapids).