Detroit families protest repeal of Obamacare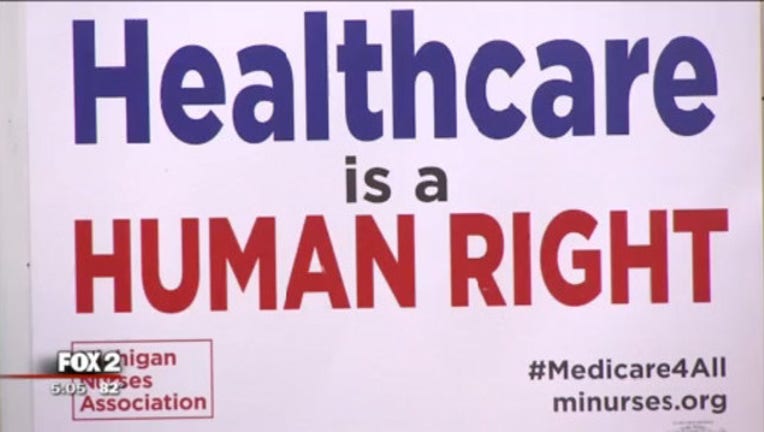 article
DETROIT (WJBK) - The healthcare debate rages in Washington DC where GOP lawmakers are poised to pass a bill to repeal and replace the Affordable Care Act (aka Obamacare).
Jimmy Bates is just 18 months old but has already needed more than $1.5 million in medical care since he was born 14 weeks early. His family joined Congresswoman Debbie Dingell and other families in Detroit to show their opposition to the legislation that would repeal Obamacare.
"Thanks to the affordable care act we dont have to worry about whether he's gonna get insurance. Being born early is often considered a pre-existing condition. He has hearing loss due to the antibiotics that saved his life," Ryan Bates said.
If the act is repealed, the Bates family says they worry Jimmy - or other families going through what they are - may not get health insurance that is affordable. On Wednesday, Dingell said that many people may not understand the implications of the bill that's being considered.
"It's young people, it's middle-aged people who have to pay five times as much as they have to pay right now. And seniors, may who, the only way to get long-term care is with some support from Medicaid," Dingell said.
Dingell says that neither of the bills discussed allow everyone affordable, quality healthcare.
"Donald trump says that the House bill was mean. And he's right, it was mean, but the Senate bill is even meaner. That's not who we are as Americans," Dingell said.
While president Donald trump has called Obamacare "expensive and dangerous," some republicans like Rocky Raczkowsi say he appreciates what Democrats are trying to do but their intentions are misplaced.
"If you really think about it the Affordable Care Act - what people refer to as Obamacare - is not working. So they should be working with the House and Senate to change the Affordable Care Act," Raczkowski said. "Their protests maybe all sound great and tug at our heart strings but they're placed at the wrong people. They should be upset with the people that gave us the Affordable Care Act.
Raczkowskiadds that people should be put before politics and worries if Obamacare isn't replaced, rates will go through the roof.
"What are you going to do? You need to have more competition," he said.
Another rally to oppose the repeal is set for Thursday.