VIDEO: Detroit fire truck careens into east side gas station after SUV collision
DETROIT (FOX 2) - A Detroit fire truck was hit by an SUV and plowed into a gas station at Dequindre and State Fair Wednesday night, injuring seven people including three firefighters.
A Lincoln Navigator crashed into the rig at the intersection sending it careening into the gas station pumps, striking another vehicle before coming to a rest in front of the station store. Video below courtesy of Metro Detroit News Instagram page.
A trail of wreckage could be seen at the Citgo, with the rig resting against the building. Luckily all of the seven injured are expected to recover from minor injuries.
A witness told FOX 2 that the Navigator SUV had a green light when it collided with the fire truck responding to a call on I-75. The SUV then hit a light pole and the fire truck crashed into a gas pump and parked van. 
"The truck was coming down Dequindre, it had the green light," the witness said. "The fire truck was coming down Outer Drive. The fire truck tried to avoid him and go up Dequindre, he lost control.
"It was just a blind-side accident, but he was in the right."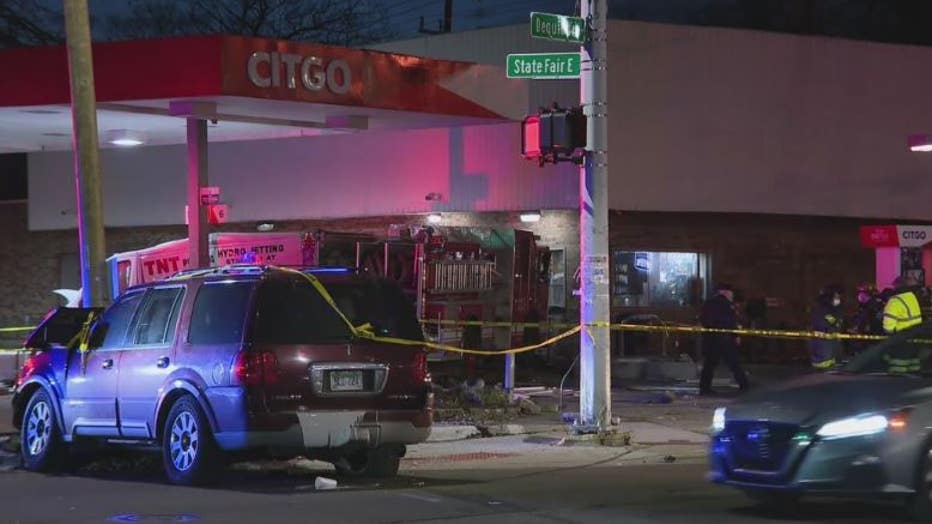 Detroit police say it is unclear who is at fault at this point in the investigation.