Detroit Grand Prix parking: Where to park, street closings, bus reroutes, and more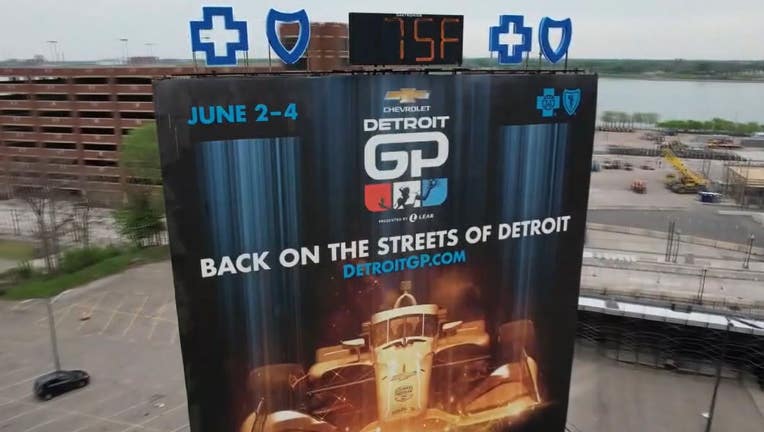 article
DETROIT (FOX 2) - The Detroit Grand Prix takes over the streets of downtown June 2-4.
If you're heading to the event or you'll be in Detroit for other activities, plan ahead to avoid congestion, road closures, or bus route changes.
VIEW: Detroit Grand Prix schedule
Grand Prix parking
The city will open its parking structure at Eastern Market on these days: 
June 1 - 6 a.m. – 11 p.m.
June 2 - 6 a.m. – 11 p.m.
June 3 - 7 a.m. – 5 p.m.
June 4 - 8 a.m. – 6 p.m.
The cost for the Eastern Market garage is $5.
Private lots and garages will also be open around the city. Prices for these parking spots vary.
ParkDetroit.us can be used to book spots and prepay.
SpotHero also allows parking to be booked in advance.
Street closures and traffic restrictions for Grand Prix
I-375 is only accessible to those with permit parking or traveling to Canada beginning at 7 p.m. Wednesday, May 31 to Monday, June 5. All other motorists should exit at Lafayette Blvd.
Inbound J.C. Lodge exit to Jefferson Avenue (under Huntington Place) will be closed beginning the evening of Wednesday, May 31 to Monday, June 5.
Jefferson is local traffic only from Orleans to Rivard with total closure at Rivard.
Closures and lane restrictions are scheduled for Bates, Atwater, Franklin (Rivard to St. Antoine), Randolph, and Beaubien.
Bus reroutes
From now through Thursday, June 8, several bus routes will be rerouted for the Detroit Grand Prix.
Grand River (3) - Board bus on Congress between Brush and St. Antoine.
Jefferson (9) - Board bus on Larned between Rivard and St. Aubin.
Dexter (16) - Board bus on Larned in front of Financial District People Mover Station.
Passengers also can expect reroutes on Van Dyke/Lafayette (5), Gratiot (6), Russell (40), Chene (52), and Cadillac/Harper (67).
There will be no reroutes on outbound routes.
Detroit People Mover hours
June 2-4 from 5 a.m. – midnight
QLine travel option
The city is working with Wayne State University and QLine on a pilot park-and-ride program. 
Park at Wayne State's Lot 12, 6050 Woodward Avenue, for $5 and take the QLINE free from the Amsterdam station.
Wayne State also has parking that is a short walk to Q-Line, DDOT, and SMART routes at these lots:
Parking Structure 1, 450 W. Palmer Ave, Detroit, MI, 48202 - $8.50 via credit card only
Parking Structure 8, 91 West Forest Ave, Detroit, MI, 48201- up to $12 via credit card only
Live traffic updates
Click here to receive live traffic updates and more from the Grand Prix.