Detroit Metro Airport temporarily closes due to winter storm
FOX 2 (WJBK) - As Metro Detroit is being hit hard from a winter storm, those with scheduled flights are out of luck Friday night.
Detroit Metro Airport tweeted that due to the deteriorating weather conditions, it is temporarily closed. 
"Please check your flight status with your airline before heading to the airport," the airport tweeted at 7:30 p.m.
Crews have been working on the tarmac at Detroit Metropolitan Airport in Romulus for hours.
A number of people are stranded tonight, including one local family hoping to get to Tampa.
"Frustrating, we wish we would have known before we got down here, it's not easy traveling with a little one," said one mom with a 6-month-old infant.
Zee Sellers was hoping to get to Houston.
"I came here to visit family, and we're supposed to be in Houston, we were on the tarmac for three hours, and it never happened," she said. "And then the runways were all closed. So now the flight is canceled, and hotels are booked. And we're stuck in this winter wonderland in March."
"We were on the plane for a while, got de-iced a couple times and here we are," said another woman.
Some stranded travelers are left sleeping in the hallways at DTW.
From 7 p.m. to 10 p.m. the storm intensified and dropped as much as two inches of snow per hour - especially in Livingston and Washtenaw counties. It is expected to taper off by 1 a.m.
All of southeastern Michigan is under a winter storm warning until 4 a.m. Saturday.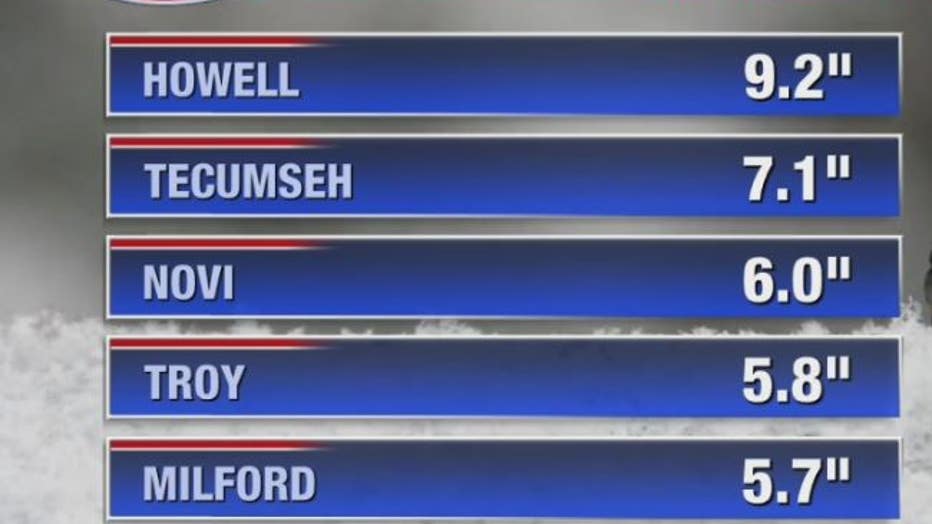 More storm coverage:
Live Metro Detroit road conditions as winter storm gets stronger this evening
Wind gusts up to 45 mph coupled with heavy snow will create zero visibility on the roads. 
For more flight information, go to Flight Aware.