Detroit mural featuring twerking woman gets covered by building owner
DETROIT (FOX 2) - It is said that a picture is worth a thousand words, but in this case - four speak the loudest - "censored by the city."
A twerking female character's bottom is covered up with a black box within a city mural. On the black box is the censorship message.
"I had these Keith Haring type of characters I was doing," said Sheefy McFly. "In a lot of cases, people are saying Detroit is coming back or it's having a resurgence. But in my eyes, it never left."
"Yeah, I don't like it. just to say it point-blank."
McFly is the Detroit rapper, DJ and producer who painted the mural at 2055 Gratiot. He was tapped to create the piece for Eastern Market's murals in the Market Festival in 2018.
But the owner of the building took a crack at altering the mural, covering up the dancing woman's rear end.
"I wasn't trying to sexualize her in any way," McFly said. "I just saw a woman dancing and it's been up for three years and it hasn't been a problem in that length of time."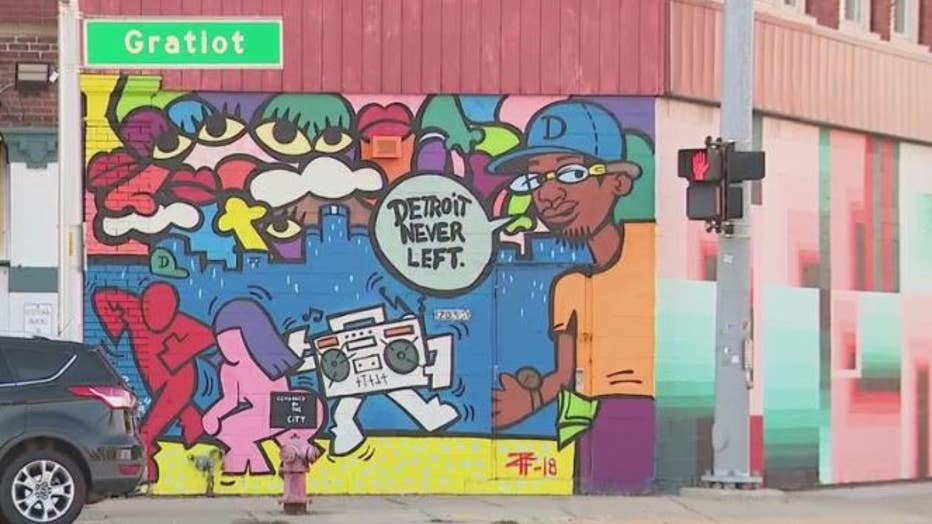 The City of Detroit says it received a complaint about the mural and relayed it to the building's owner, who, unbeknownst to McFly at the time, made some changes to the piece.
"I just came by the mural yesterday and I just saw the censorship," McFly said. "My biggest thing is just talking to the artist because I could've changed it or we could've just talked about it.
"Just make sure to respect the artist, talk to the artist. Because we're all in this together. I feel like I'm representing Detroit and bringing beauty to Detroit, just like anybody in an office building or anything like that."
The City of Detroit says they played no role in censoring the mural. It only told the building's owner about the complaint.
FOX 2 reached out to him for comment –we have not been able to get a hold of him. McFly says he may. But he adds there are no hard feelings.