DNR: If you see these two flags, don't go in the water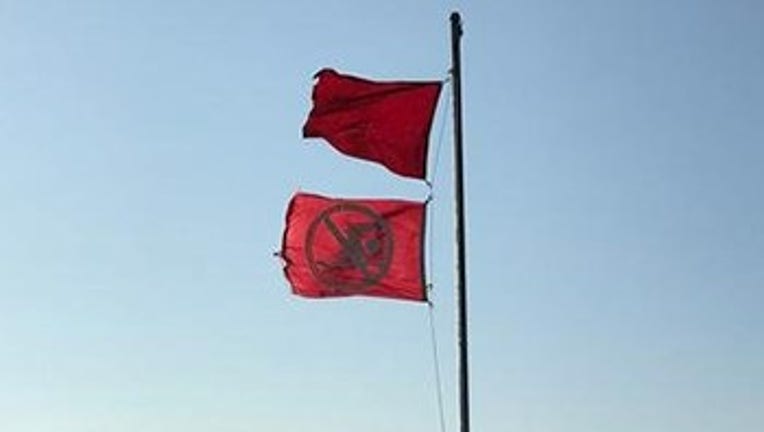 article
(FOX 2) - If you see two red flags flying over the beach you're visiting, do not go in the water.
A double red warning flag indicates it is unsafe to enter the water and beachgoers will be prohibited from entering it. 
The signage is a new part of the Department of Natural Resource's efforts to keep people safe as they recreate along Michigan's shorelines. While the DNR is always reevaluating its changes to make things safer, the new warning system comes as drownings in the Great Lakes persist.
"Many people underestimate the power of the Great Lakes and don't always understand how quickly even the most experienced swimmer can get into a life-threatening situation and swept away," said Ron Olson, the DNR Parks and Recreation Chief. "That's why the DNR is committed to making beach safety and public education a top priority."
Since 2010, there have been 1,170 people who have drowned in the Great Lakes. Last year, more than a hundred people died. 
As a result, the DNR rolled out a new program that included two red flags in 2022 and expanded the program to the rest of the state this year. 
MORE: These are the Michigan beaches people are most excited to visit this summer
Risks that might preempt a double red flag warning include hazardous waves, dangerous water conditions, active rescue or recovery efforts, and environmental hazards. 
"We began introducing double red flags at some state-designated swim beaches in 2022," said Pat Whalen, district supervisor for the DNR Parks and Recreation Division. "This year, all equipment is in place, and the new flag warning system has been rolled out to all state-designated swim beaches along the Great Lakes in nearly 30 state parks. We urge all Great Lakes beach visitors – whether you're new to these beaches or have been coming for years – to learn what the flags mean and follow this guidance at all times."
The Great Lakes flag warning system is in place at state-designated swim beaches to advise visitors of current water conditions and any applicable environmental warnings. The updated system now includes:
Double red flag = water access closed**. Do not enter the water; dangerous conditions.
Red flag = high hazard. High surf and/or strong currents. It's recommended that you stay on the beach.
Yellow flag = medium hazard. Moderate surf and/or currents. Watch for dangerous currents and high waves.
Green flag = low hazard. Calm conditions. Enter the water, but exercise caution.
Find the latest on Michigan's beaches and which are open this weekend here