Eevette MacDonald sentenced for role in Stephen McAfee murder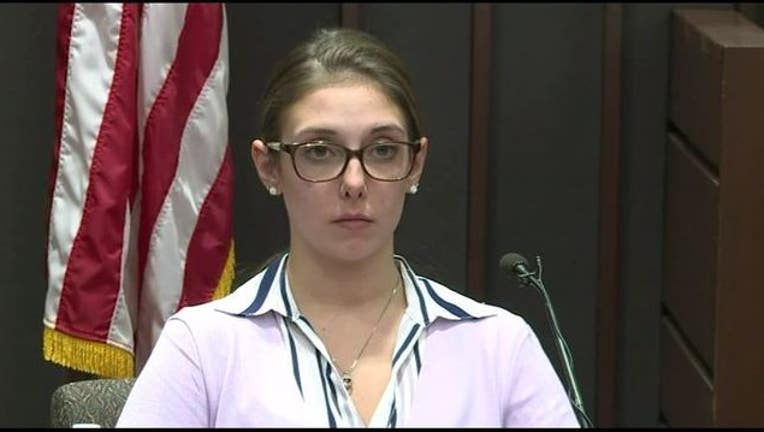 (FOX 2) - The ex-girlfriend of 21-year-old Andrew Fiacco, who was found guilty of murdering a childhood friend, has been sentenced for her role in the death.
Eevette MacDonald, 20, was sentenced Thursday to one year in prison and three years of probation after pleading guilty to disinternment and mutilation of a body as well as being an accessory. Another charge, lying to police, was dropped as a result of a plea bargain and she agreed to testify in Fiacco's murder trial.
After several weeks of trial, Fiacco was found guilty on February 5 of second-degree murder in the death of 19-year-old Stephen McAfee in March 2016. He had originally be charged with first-degree murder, mutilation of a body, felony firearm and lying to police.
Andrew Fiacco guilty of 2nd-degree murder in death of Stephen McAfee
McAfee first went missing March 2016 and it wasn't until April 2017 that police made arrests in his murder. Investigators discovered that Fiacco and McAfee, who were friends at the time, had been in a vacant lot at 34 Mile and Van Dyke in Bruce Township when they got into an altercation. Fiacco shot McAfee several times and left the body there. 
About a month later, Fiacco returned with his girlfriend at the time, Eevette MacDonald. She testified that he held her at gunpoint and forced her to help dismember the body. Fiacco and MacDonald buried part of the body in the vacant lot and other parts in Fiacco's backyard of his home on Kunstman Road near 28 Mile in Ray Township.
The lying to the police charge came from an incident in September 2016 when police spoke with Fiacco and MacDonald about McAfee's disappearance. They said they didn't know where he was or what had happened to him.
The truth came to light in 2017 when MacDonald confided in a friend about the murder. A month later, that friend went to the police. MacDonald was called in for questioning, and she led police to Fiacco. Both were arrested for McAfee's murder. 
Trial underway for 21-year-old Macomb Co. murder suspect Andrew Fiacco
During the trial, MacDonald testified that Fiacco threatened her, saying that he was part of a mafia and if she did not help him dispose of the body, she would not be safe. She testified that she lied to police because Fiacco told her she was under a protection clause, and that her family would be in danger if she told the truth.
"I was afraid if I told them the truth, they wouldn't be able to react fast enough -- they wouldn't be able to help me or my family," she said.
MacDonald is eligible for the Holmes Youthful Trainee Act, or HYTA, which allows her a clean record if she follows the court's rules. During the trial, prosecutors said they wouldn't object to it and wouldn't object to probation.