Four arrested for giving kids THC gummies, exploiting them for child porn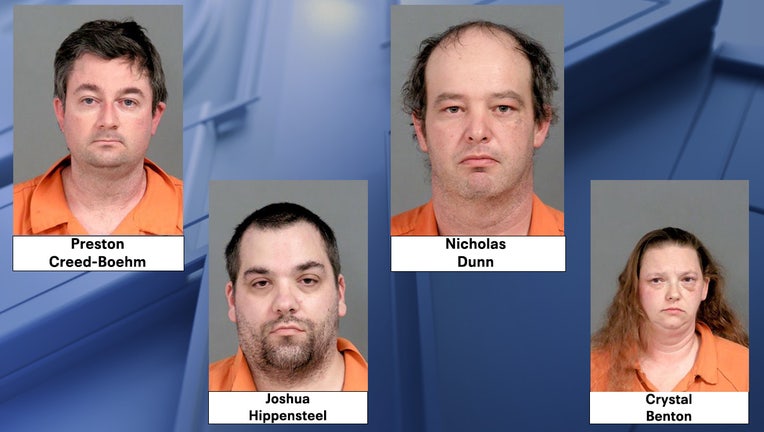 article
FLINT, Mich. (FOX 2) - The Genesee County Sheriff said that four people have been arrested on accusations they gave four children THC-laced gummies and then took advantage of them to make child pornography.
According to Genesee County Sheriff Chris Swanson, the investigation started in the winter of 2022 but the exploitation had been ongoing for five years.
WARNING: The details in this story are graphic.
Swanson said they first started investigating a 36-year-old man, Preston Creed-Boehm, of Grand Blanc last winter. The investigation, which included the sheriff and Homeland Security, was started after child pornography was sent to his home. 
"This case of monetizing child pornography started because of homeland security in Detroit –  and the reach that they have – reached Genesee County and through that it involved multiple states and multiple offenders," the sheriff said.
Swanson said Creed-Boehm is one of the kingpins and has been on the radar of Homeland Security. During a raid, he was arrested and identified three other offenders, Joshua Hippensteel, Nicholas Dunn, and Crystal Benton.
"The four of them are related in one way or another. Dunn and Benton are engaged. Hippensteel and Boehm have a physical, emotional relationship. Boehm, who was first arrested, said that the four of them used children within their sphere of control to not only sexually assault them….but also to create and sell, i.e., monetize the most horrific child pornography videos that they can sell at the global market," Swanson said.
According to the sheriff, there are four victims that they know of, dating back to 2018: a 5-year-old, 2 10-year-olds, and a 14-year-old. But Swanson said they've already identified six additional victims.
"That's ten children that have been victimized because of this deviant group of individuals that find the most disgusting ways to create content," Swanson said. "They would use THC-laced gummies to drug these children and rape them while they were asleep."
Swanson said they would also feed the children M&M's coated with dried semen. 
"They're monetizing their sexual assault and the consumers from around the world are just as guilty as those that are producing this content at the disadvantage and the innocence of our kids," he said.
Swanson said some of the children were under care of foster parents. He said there are more suspects they're working to arrest as well.
"What we have found since we started this investigation in December is they lived and worked among us. Benton worked at a fast food restaurant as a manager. These other individuals that they abandoned and abused, they groomed the parents of these kids to bring them over," Swanson said.
The abuse went back to at least 2018 and peaked over the last year.
"What happens is when predators get together and, in this case create a criminal enterprise, they see that the demand of their customer base, which are other deviants around the world, and they continue to produce content," Swanson said. "There's a desensitizing of individuals that if if this doesn't get their dopamine release, they take it to another level. And that's where we're at. So the videos and the content and the rapes became more violent. The children became more and more abused. Their circle of victims grew. If we hadn't stopped this through Homeland Security, it'd be happening right now and even more."
All four are facing local and federal charges. Boehn is in federal custody, the other three are charged with a minimum of life in prison.
Anyone who may have been victimized by the suspects are urged to come forward by contacting the Genesee County Sheriff's Office.