'He'd be in jail still': MSP Lt. Shaw argues existing laws could have prevented Michigan State shooting
EAST LANSING, Mich. (FOX 2) - In 2021, Michigan State University shooter Anthony McRae completed a probation sentence for a gun charge that could have sent him to prison for up to five years. However, he took a plea deal and spent no time in prison.
McRae admitted that he had a gun and no concealed pistol license when he was stopped near an abandoned building in Lansing in June 2019. Police arrested McRae, who was charged with carrying a concealed weapon, a crime that carries a maximum of five years in prison.
Related: Everything we've learned about the 8 MSU students shot
He later pleaded guilty to a misdemeanor charge of carrying a loaded firearm in a vehicle, a crime that carries a maximum sentence of no more than two years in prison, and served 18 months of probation. He was discharged from probation in May 2021.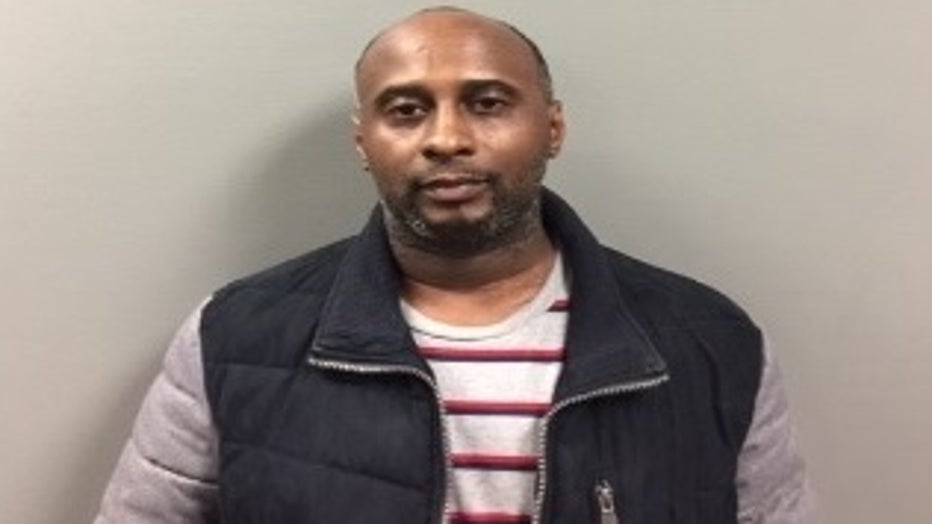 Anthony McRae, seen here in his booking photo on a weapons charge in 2019, has been identified as the shooter at Michigan State University on Monday, Feb. 13, 2023.
"When we look at these events, which we're going to do with this particular incident, there's going to be certain indicators that we go alone, including not using the laws that we have on our books already to put people in jail that should be in jail, and this murderer is one of them," Michigan State Police Lt. Mike Shaw said. "What about the laws that are already on the books?"
While the 2019 conviction is the only weapons charge that was on his record, a neighbor claimed that the police were called on McRae because he would shoot guns out of the backdoor of his house. However, Lansing police said Thursday that they have never received calls about this. 
Shaw argues that had McRae been sentenced for the original charge, he would have still been locked up on Monday when eight students were shot, three fatally, at MSU. 
"Twenty-nineteen he gets arrested for carrying a concealed weapon. It's a five-year felony. Five-year felony. We already have felony firearms, which was the last time the legislature looked at laws to say, 'How do we prevent gun crime?' It's a mandatory two-year sentence when you use a gun in a crime. This is what he did, so you're looking at anywhere between 5-7 years that he could have done in prison," Shaw said. "He got 18 months probation. That is it. If they would have actually given him the sentence for the crime he did, he'd be in jail still."
More: MSU shooter's brother said he changed after mom died
Ingham County Prosecutor John J. Dewane, who was not in office when McRae was offered a plea deal, argued that due to state sentencing guidelines, McRae wouldn't have been recommended for time behind bars on the original charge or the amended carrying a firearm in a vehicle charge.
"It is a routine matter in nearly all criminal cases that the recommended sentence is not the same as the legal maximum. Even if he were convicted by a jury of the original charge, Anthony McRae would not have been recommended for a jail or prison sentence," Dewane said in a statement.
Read: What we know about the MSU shooting suspect
After the MSU shooting and an hours-long manhunt, McRae turned the gun on himself. Now, investigators are left to figure out what happened without having the suspect alive to provide that answer.
"We don't know why this person picked these two buildings or what," Shaw said.
Shaw said there are a few changes that could help reduce these shootings.
"Am I gonna say this is never gonna happen again? No. You can't. You can't say that, but we need to take those steps to try to work our way through that process so we're not talking about this every day," Shaw said. "We need to take the laws that are on the books, some common-sense gun regulation and put them together. And then we need to sit down like adults because we're failing our kids. We need to sit down like adults and say, 'How to we take this next step?'"
Background checks and safe storage laws are important, Shaw said.
"Who can argue that [background checks]? Who can argue about the fact that we want to make sure the people that have a gun are supposed to?" he said.
Shaw said police are a bit more concerned about red flag laws, which would allow court orders for guns to be removed from people who could be a threat to themselves or others. They are also designed to keep guns out of the hands of people who may be suffering mental health crises, so people don't get hurt.
"Red flag laws, we're a little worried about," he said. "When we're doing that kind of thing, we're putting law enforcement in confrontation with mentally ill people with the law."
Other states have enacted these laws. Florida passed a law after the Parkland high school shooting in 2018, while Maine has a "yellow flag" law that requires a medical professional to sign off before guns are removed. 
The specifics of these laws vary by state, but the premise is the same – someone, typically a family member, police, or medical professional, can petition to have a person's guns removed from them for a set time. A judge approves or denies these orders, and the person can be charged with crimes if they fail to comply.