History-making Democrat-led state legislature gets underway in Lansing
LANSING, Mich. (FOX 2) - The state legislature was back in session Wednesday and with the first bang of the gavel, the Michigan House was in Democratic hands. And likewise, with the call to order in the state Senate
The 148 members of the Michigan House met for the first time with the Democrats in control for the first time in 40 years
The 38-member Senate did the same with the Democrats also in control for the first time in four decades.
The history-making continued with the first African American speaker of the House. The former NFL player, Marine, and now first Black Speaker Rep. Joe Tate was not challenged by the Republicans but nine ultra-conservatives did vote against him.
In the Senate for the first time in state history, West Michigan Democratic Sen. Winnie Brinks became the first female to lead the upper chamber, which she says is more diverse than ever before.
"It is significant that the gavel is changing hands from Republicans to Democrats," she said. "People who in the past have been excluded from these halls of power due to race, religion, sexual orientation are now senators."
Now leading the Republican Senate is Aric Nesbitt.
"(Voters) say we need to work together to solve problems our families are facing across the state," he said. "Colleagues, this is not Washington D.C. thankfully."
Tate pledged to work with Republicans  Speaker Tate, without calling out former President Donald Trump and others by name, asked everyone to tell the truth.
"It is our duty to be truth tellers," he said. "Our commonalities are more than our differences."
The new House GOP leader Rep.Matt Hall from west Michigan wants to make sure liberal Democrats don't move the state in the wrong direction.
With housing keeping chores out of the way lawmakers await the governor's agenda-setting State of the State message on January 25th.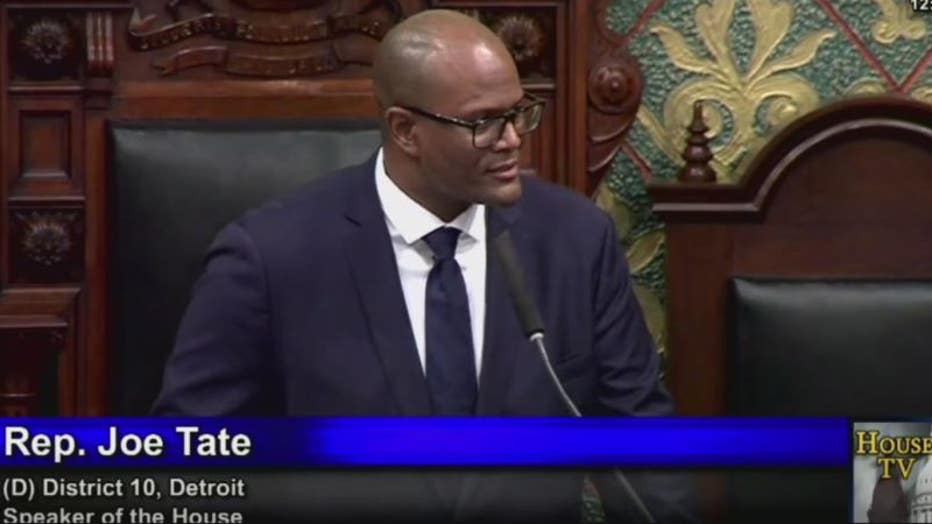 Rep. Joe Tate (D-Detroit) is the first ever Black Speaker of the Michigan state House.