How many UAW members are on strike as union expands strike at Ford, GM
DETROIT (FOX 2) - Talks between the UAW and Detroit's Big Three haven't come to a stop yet but union President Shawn Fain said the automakers haven't done enough to put an end to the strike – or to slow the number of members joining the picket line.
It's been two weeks since the start of the standup strike, which is coming in waves at facilities across the country. It started with over 13,000 workers at plants in Michigan, Ohio, and Missouri on Friday, Sept. 15. Last week, it expanded to include 5,000 workers in 38 GM and Stellantis parts and distribution facilities. This week, Fain called on two new plants to join the picket line: the GM Lansing Delta Assembly and Ford Chicago Assembly Plant. Those two new plants include 7,000 UAW workers.
All told a total of 25,000 UAW members will be on the picket line starting at noon on Friday, Sept. 29.
Fain announced he would update on the progress at talks at 10 a.m. but was about 30 minutes late. He said that was due to major, last-minute efforts from the Big Three.
"Mere moments before our Facebook live, we received a flurry of interest from the companies in addressing some significant bargaining issues," he said.
Through his announcement, he called on Ford and GM UAW members to take up the picket lines but spared Stellantis this week. He said this was due to significant progress from the automaker that produces Jeep and Dodge vehicles, especially in Cost of Living Adjustments (COLA) and the rights to strike. 
He expressed excitement in how talks are progressing with Stellantis and called on automakers to hold strong and that the union's efforts today will have enormous implications in years to come.
"When we set a new course for future generations, It won't be because of any president. Not the UAW president, not the President of the United States. It will be because ordinary people did extraordinary things. Our solidarity is our strength. Our strength is the hope of working-class people everywhere. Let's stand up and win this thing," he said.
What is the UAW?
The UAW stands for United Auto Workers and is primarily made up of union members who work in the automotive industry. That's a total of roughly 150,000 across Detroit's Big Three. 
But the UAW extends into other industries as well. The UAW is the International Union, United Automobile, Aerospace and Agricultural Implement Workers of America and is commonly abbreviated as UAW. 
That's a total of over 400,000 active members and more than 580,000 retired members.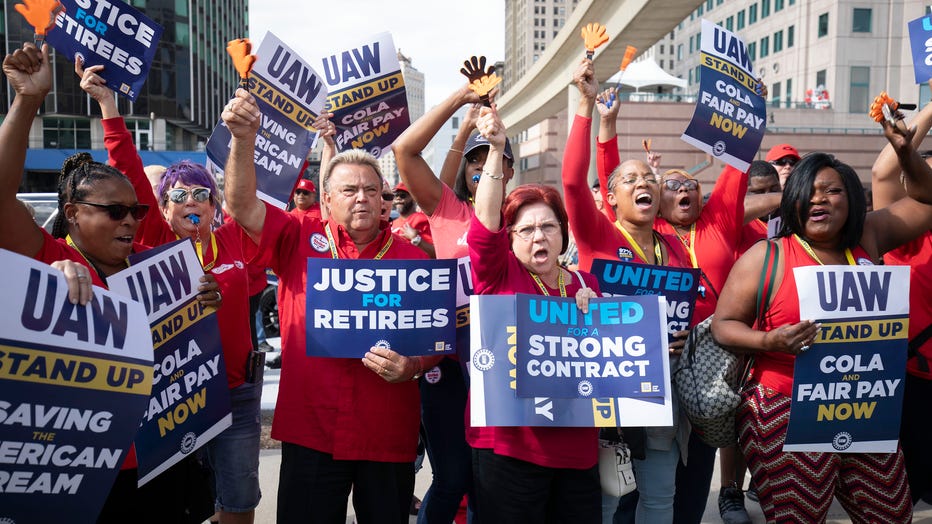 United Auto Workers members attend a solidarity rally as the UAW strikes the Big Three automakers on September 15, 2023 in Detroit, Michigan. This is the first time in history that the UAW is striking all three of the Big Three automakers, Ford, Gene
What other parts of the UAW are on strike?
Fain highlighted some of those other industries in his announcement on Friday.
That includes members at a packaging facility in New Jersey; members of a company that makes appliances for RVs and boats in Pennsylvania; members of a polyurethane wheels and tires manufacturer in Iowa; and in Michigan, Members roughly 1,100 Blue Cross Blue Shield workers went on strike to stop the outsourcing.
Fain said axle makers for Mercedes in Alabama are on strike and members at Mack Truck could strike this weekend unless a deal is made. 
"Not a single wheel will turn without us," Fain said.
Fain said Mack took three weeks to respond to demands.
"Unless the company gets serious, they're about to learn firsthand that our union is packing a fight and we're not backing down from anybody," he said.
UAW members of MGM Grand Detroit, Motor City Casino, and Hollywood at Greektown are voting on Friday. They're a part of the Detroit Casino Council, five unions working together for a fair contract.