Hurricane Lee rapidly intensifies to extremely dangerous Category 5 storm as it barrels through the Atlantic
Hurricane Lee is undergoing rapid intensification and reached Category 5 status on Thursday evening.
A Hurricane Hunter aircraft spent Thursday evening examining the storm and found pressures around 928 millibars and winds of around 160 mph.
The latest forecast shows the hurricane will continue to strengthen and could have winds around 180 mph by Friday evening.
This would make the cyclone the strongest system in the Atlantic since Hurricane Dorian in 2019 hit the Bahamas with 185 mph wind.
"When you see a storm that is wrapped up like that, then you know, you've got storm in the upper echelon…And this has been a really one for the record books in so many ways. And just thankfully, it's not heading for land, at least there in the short term," said FOX Weather Hurricane Specialist Bryan Norcross.
HURRICANE LEE LIVE TRACKER: SATELLITES SPAGHETTI COMPUTER MODELS, CONE OF CONCERN AND MORE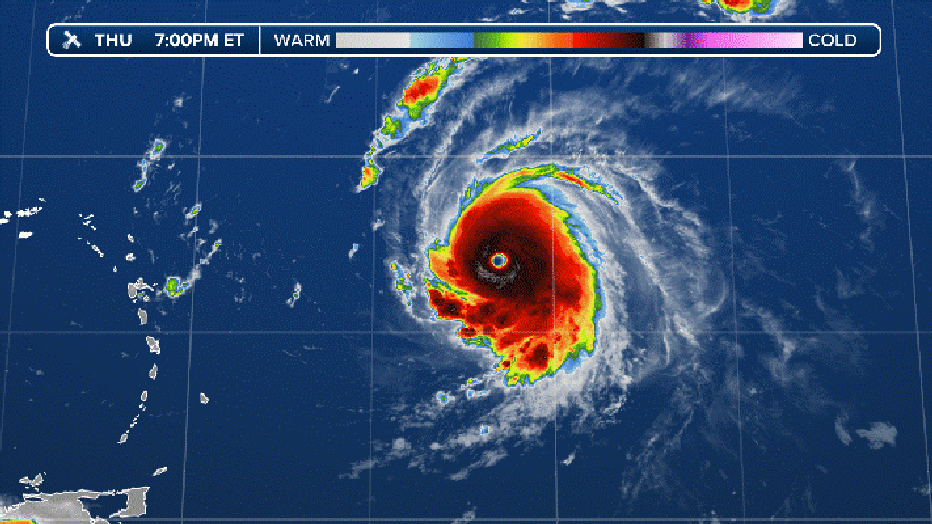 Current infrared satellite loop (FOX Weather)
Will Lee have any impacts on the US East Coast?
By the weekend, Hurricane Lee is expected to bring gusty winds and rough seas to Lesser Antilles and Puerto Rico.
Beyond Sunday, the hurricane is expected to pass north of the islands and into the southwest Atlantic.
Norcross stated that Lee is not likely to be a direct threat to Florida, Georgia, or South Carolina, but the storm will generate high surf with powerful waves that may cause damage along the shorelines. 
While computer models predict Lee will stay offshore, some indicate that the Mid-Atlantic and Northeast coasts may still feel effects from the storm and monitoring future forecasts is recommended.
WHAT IS THE 'CONE OF UNCERTAINTY' IN HURRICANE FORECASTS?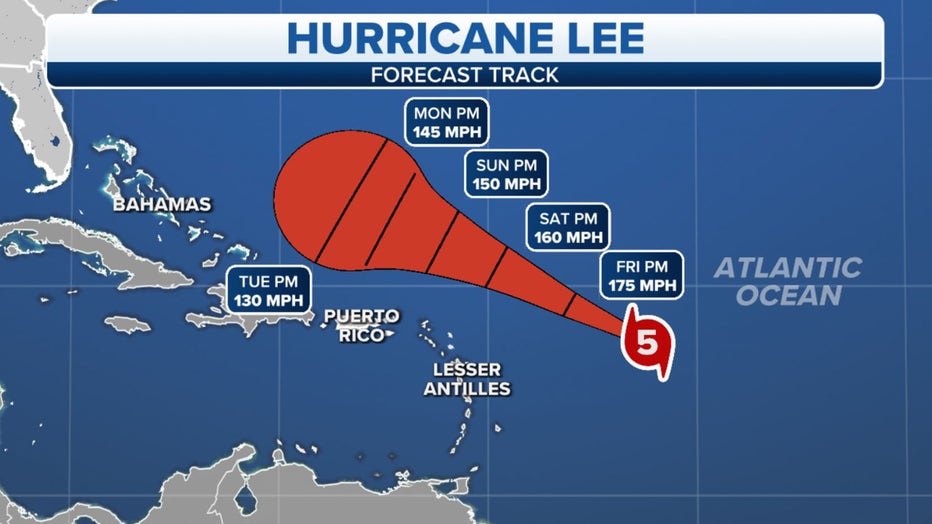 The forecast cone for Hurricane Lee. (FOX Weather)
Where is Hurricane Lee?
According to the National Hurricane Center, Hurricane Lee is around 700 miles to the east of the northern Leeward Islands.
The hurricane continues to head in a west-northwest heading in the general direction of the northeast Caribbean and southwest Atlantic.
HOW ARE HURRICANES RATED? THE SAFFIR-SIMPSON HURRICANE WIND SCALE EXPLAINED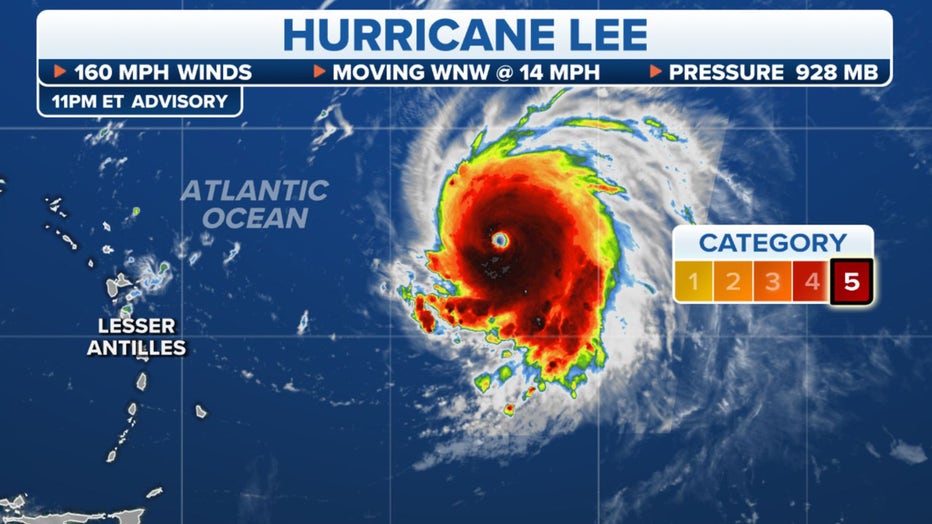 Where Hurricane Lee currently is. (FOX Weather)
What is the forecast track for Hurricane Lee?
Hurricane Lee is expected to move west-northwest during the coming days and near the islands in the northeast Caribbean during the next 36 hours.
While the cyclone is forecast to pass north of the islands, its close proximity rough seas are expected in the northern Leeward Islands which could cause coastal flooding.
There are currently no watches or warnings in effect for any landmasses.
A Tropical Storm Watch is issued when winds sustained 39 to 73 mph winds are possible within the next 48 hours.
A Hurricane Watch is issued when winds of at least 74 mph are possible within the next 48 hours. These winds may be accompanied by storm surge and coastal flooding.
WHAT DOES IT MEAN WHEN A HURRICANE UNDERGOES 'RAPID INTENSIFICATION'?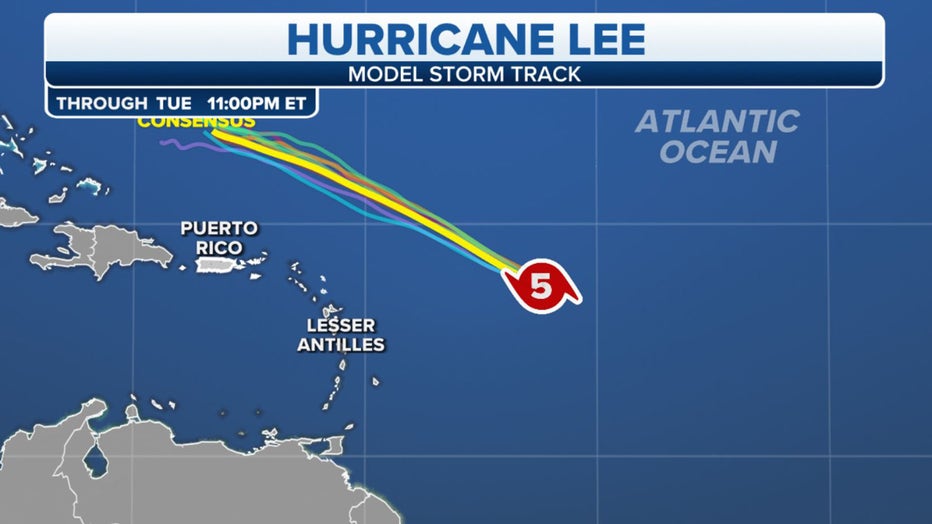 Spaghetti forecast model plots. (FOX Weather)