I-96 Flex Route construction resumes in Oakland County; 2 lanes to be open each direction through late fall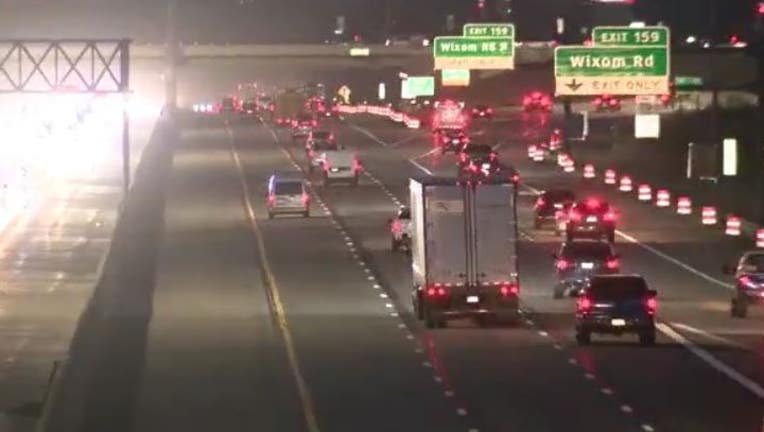 article
OAKLAND COUNTY, Mich. (Fox 2) - A project to build a flex lane on I-96 in Oakland County resumes this week.
This includes reducing the freeway to one lane for several hours Wednesday and Saturday as traffic is shifted.
View: Live traffic map
From 9 a.m. until 2 p.m. Wednesday, March 15, one lane of westbound I-96 will be open from Beck Road to Kent Lake Road, and ramps will be closed intermittently as pavement markings are added. 
From 6 a.m.-6 p.m., Saturday, March 18, eastbound I-96 will have one lane open from Wixom Road to I-275 for pavement markings and traffic shift preparation. Once that is completed, eastbound traffic will be shifted across the freeway, with both directions of traffic sharing the current westbound side and two lanes open in each direction through late fall.
The westbound I-696 connector to westbound I-96 will have one lane open through the fall.
Related: I-696 down to 2 lanes in each direction until end of year
The Michigan Department of Transportation said the eastbound traffic shift requires the closing of multiple ramps which will heavily affect local traffic wanting to enter I-96 through late summer:
Wixom Road ramp to eastbound I-96 will be closed
Beck Road ramp to eastbound I-96 will be closed
Eastbound I-96 ramp to Beck Road will be closed
Northbound and southbound Novi Road ramps to eastbound I-96 will be closed
Westbound M-5 to westbound I-96 remains closed through late fall
The detour for the on-ramps is to go southbound to Grand River Avenue, then eastbound on Grand River Avenue to northbound Novi Road, to eastbound 12 Mile Road, then southbound on M-5 to I-96/696.
Crews are about a year into the project, which is expected to take three years.