I-696 starting to reopen after multiple crashes involving semi-trucks shut down lanes at I-94 and I-75
MACOMB CO., Mich. - Weather wreaked havoc on hundreds of unsuspecting commuters in Metro Detroit Wednesday morning when two separate traffic jams started involving jackknifed semi-trucks.
Both happened at locations along I-696, creating headaches for people traveling on I-75 and I-94.
One of the crashes included a pile-up of at least a dozen cars on the eastbound ramp in Roseville. Crews were still moving cars out of the way hours after the crash happened. Lanes finally reopened around 10 a.m.
The crash happened around 6 a.m. on the ramp that leads onto eastbound I-94. Footage from above showed about 12 cars jammed together with a semi-truck in the middle of the road.
While the initial wreck only involved a couple vehicles, it created a chain reaction on the slippery roads, leading to a pile-up of cars.
Another wreck happened near I-75 along I-696 where a semi-truck got stuck, shutting down lanes after it apparently slammed into the median, breaking the barrier. The crash shut down traffic in the area, including exits onto Bermuda and Campbell in Oakland County.
Many of the wrecks happened on-ramps since those are the first to freeze up after cold weather comes through. 
April usually brings some inclement weather back from winter. This morning, residents were treated to a lot of fresh snow and freezing temperatures with windy conditions. 
There have also been accidents reported: 
In Monroe after a semi-truck struck a school bus at Telegraph and Carlton-Rockwood Road.
A truck slammed into a convertible on I-696 at Mound
Lodge at Telegraph had all lanes closed due to a crash that forced vehicles northbound onto US-24
Multiple vehicles had collided on the Conner overpass traveling over I-94 
Among the biggest accidents is on the eastbound onramp from I-696 to I-94 in Macomb County. The incident is likely to lead to massive delays for incoming and outgoing traffic. It's unclear if there are any serious injuries.
It's also among several crashes that took place Wednesday morning during the traditional morning commute hour for many.
A lot of the delays are coming from I-696 where all lanes are blocked in multiple parts of the highway in Oakland and Macomb County. While the eastbound ramp onto eastbound I-94 has been blocked, lanes are also blocked near  I-75.
Crews say another jackknifed semi-truck is blocking all lanes near Campbell and Bermuda.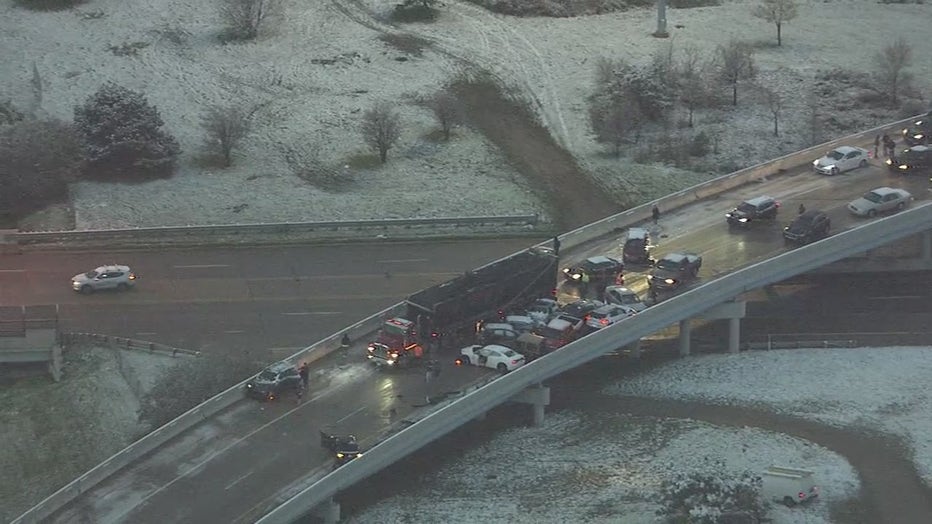 The barrier dividing east and westbound lanes on I-696 in the Ferndale Hazel Park area was knocked out due to the accident and traffic had slowed to a crawl.