Kid Rock, Ted Nugent join Sarah Palin on White House visit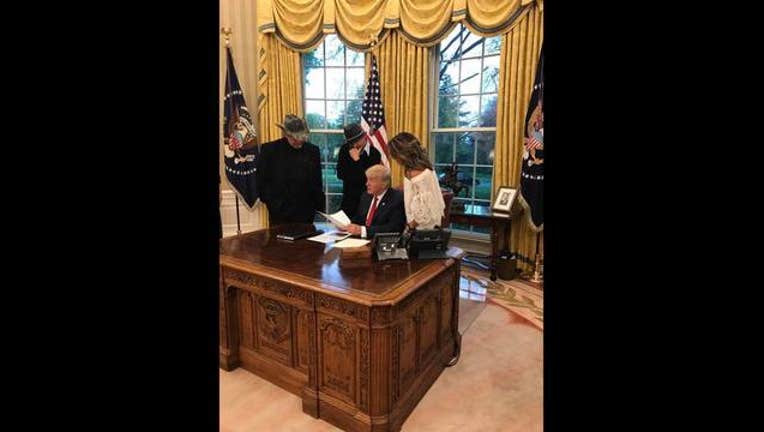 article
A couple of Michigan natives made their way into the Oval Office Wednesday night when Kid Rock and Ted Nugent visited President Donald Trump in the White House.
Kid Rock and Nugent went to the White House with former Alaska Gov. Sarah Palin (R) late Wednesday. Palin has been been a supporter of Trump since his campaign and both musicians have been supporters of Republicans for many years.
KID ROCK SELLS PRO-TRUMP SHIRTS WITH OFFENSIVE SLOGAN
In February, the Michigan GOP said Kid Rock would be 'awesome' as a candidate for the U.S. Senate. The Romeo-native is apparently being seen as a possible contender for the seat maintained by Democrat Debbie Stabenow. Her seat is up for re-election next year and she's held it since 2000. If he were to run - and win - it would be the first Republican candidate to win the seat since 1988.
MICHIGAN GOP SAYS KID ROCK 'WOULD BE AWESOME' AS SENATE CANDIDATE
In photos posted by Sarah Palin to her Facebook page, the President appears to be explaining some documents to the three white at his desk in the Oval Office.
CNN's Jake Tapper also posted photos of the visit that shows Kid Rock with his new fiancee Audrey Berry, and Nugent with his wife, Shemane Deziel.
In the photos that Tapper posted, one even includes the trio standing in front of the portrait of former First Lady and Presidential Nominee Hillary Clinton.
Details of the visit were not released.