LaNita's Pocket Park sparks new life into old Detroit neighborhood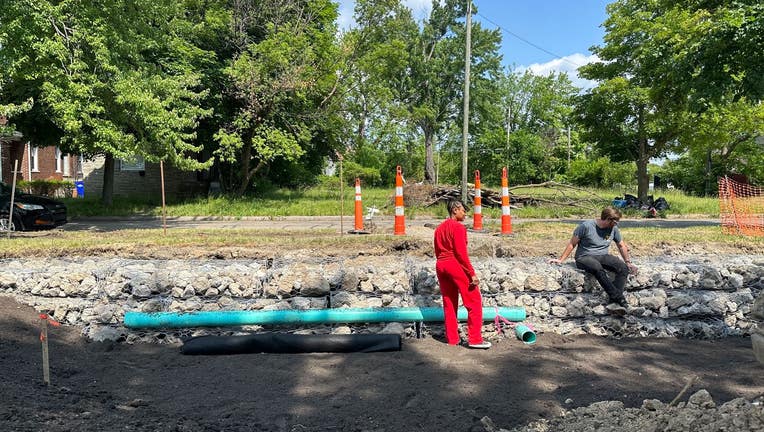 article
DETROIT (FOX 2) - Carolyn Pruitt admits she wasn't born with a green thumb. But over the past three years, gardening has become second nature to her. 
She has plants and flowers of all colors and sizes growing around her home on Hartford Street in Detroit. The flower beds were just practice for what would be her main gardening project taking place across the street. 
In a neighborhood that never really settled on a name, the residents that live between Warren and West Grand Boulevard just south of I-96 had a different presence that bonded them together: Pruitt's mom LaNita. 
"Her impact continues to be felt to this day, even though she passed away from breast cancer in 2007," Pruitt said. "Before that, she was the birth mother to six kids and also raised many others in this community and throughout the city of Detroit."
LaNita was the third generation of her family to live in the neighborhood, following her mom and her grandfather. Over time the roots she laid in the neighborhood grew deep and she became very connected with the community. 
Pruitt says the heritage and the history her mom left behind is reflective in the people that still live there. 
"Also, it was the spark for the park," her daughter said.
LaNita's Pocket Park is not only an homage to LaNita herself but also part of Pruitt's grand vision. She's transforming the vacant lots surrounding her home into a productive garden that can capture stormwater, beautify the street, and integrate more segments of the neighborhood.
Just behind the garden is another open space that Pruitt wants to turn into a meadow for birds. To the north is St. Stephen Church, which Pruitt envisions paving a trail to one day. She may even connect to the Joe Louis Greenway.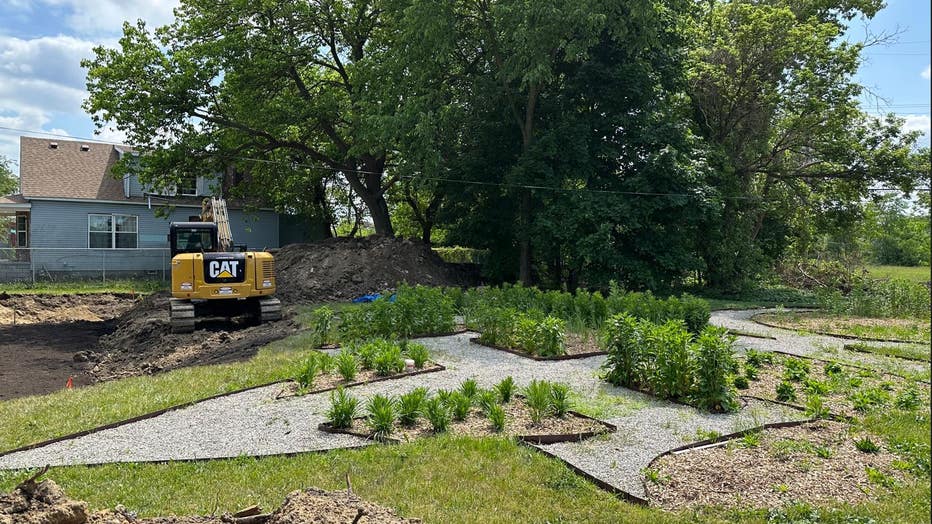 The Love Symbol, which people associate with Prince, was a feature Pruitt wanted from the start.
However, the centerpiece of the park is a giant shape with an arrow on one end, a circle on the other, and a tail hanging to one side—the Love Symbol adopted by the artist Prince during his career. Prince was a favorite of LaNita's.
"I know a lot of his music because I was forced to listen to him," Pruitt said. "The park is in honor of her and all her favorite things. Her favorite color was purple. And she was a fan of Prince for as long as I can remember."
Pruitt's original design had the Love Symbol incorporated into the rain garden. But the size of the lots and the difference in elevation from the Hartford Street's surface, the plan wasn't feasible. 
MORE: Detroit sisters return to childhood home to restore neighborhood
Dallas Ford, a restoration assistant with the Friends of the Rouge nonprofit, came up with a solution of digging a gulch three feet deep and 20 feet long. The ditch is large enough to accommodates the stormwater that floods that end of Hartford Street.
To stabilize the bed against the curb while still allowing access to the drainage pipe underneath, they built giant blocks of wire mesh wrapped around stones called gabion baskets. 
"It allows people to step down into the garden and interact and get close to the plants," Ford said. "It's built infrastructure that celebrates that this is created and natural. We can interact with it and I think that's beautiful."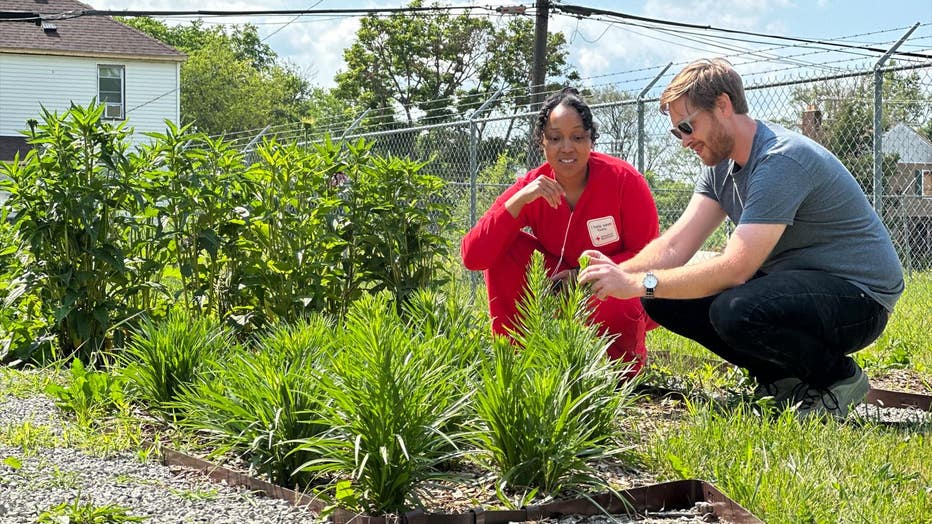 On the other side is a bed that will be abundant in plants beloved by pollinators. Ford had plenty of ideas for that section as well.
There will be sensitive fern, blue flag irises, and Michigan Holly, which is known for sprouting red berries in the winter. He hopes it will complement the red twig dogwood shrub, which gets bright white flowers in the early spring. 
The slopes will incorporate long grasses good at stabilizing the bank while resistant to high waters, such as diervilla, native honeysuckle, and st. john's wort. 
While all of this has been a dream of Pruitt's for years, the rain garden has only been a reality since early June. And many of those plants have yet to go in the ground. There are also still excavators on site. 
MORE: From prostitution, drugs & blight to a neighborhood garden, a Detroit woman is reclaiming her block
However, the progress on the parcels and the shape it's taken has filled her with a feeling that "it's actually happening."
"This totally changes the landscape," she said during one sunny midweek afternoon. 
For Pruitt, it's also significant on a larger scale too. "I realize being in this community, which many of us have entitled as a legacy community, it gives us a sense of pride. 
"Not only are we still here and doing our best to maintain and improve what we've inherited from loved ones, but to see the opportunity to help with change of the city, that next turnaround where things are improving, and we're welcoming new neighbors, to me, it's an honor to maintain property and be here."
Volunteers will be installing plants and flowers in the rain bed June 17. If you'd like to help, go here for more information.