Laundry heist: Men steal new washers and dryer from Detroit apartments, drive off in bright red truck
DETROIT (FOX 2) - A Detroit apartment complex has been victimized by at least two thieves who stole several washers and dryers from the complex by picking them up and simply walking away with them.
High quality surveillance video from the Shelbourne Apartment Building at Palmer Park starts by showing one man walking in with a small dog. He appears to be casing the place and Assistant Property Manager Kelsey Avery said he came back into the laundry room several times.
"He came back three times - in total - by himself. He did record on his phone. One time he was down there and then just left," she said.
Avery said he showed up on Thursday, March 16. The next day, two men are then seen bringing a dolly into the laundry room to steal a brand-new washing machine before driving off in a loud and bright red pickup truck.
"They ended up taking two washing machines - they took one that was brand new in a box - and they unplugged one from the wall and carted that upstairs as well," Avery said.
Two days laster, in the middle of the afternoon, one of the men return to literally pick up a dryer and walk out the door.
"It was like are you kidding me? Like who - who does this?" Avery said. "To just pick up a dryer and walk out the door - there are no words - it's insane."
The building was locked but they used a pry bar to open the back door and walk right in. They stole a total of three new washing machines and one new dryer that were intended for the residents.
"It's frustrating, especially for the owners. They spent all this time - all this money - into bringing these buildings back to life. They've come a long way. They're beautiful inside and out and for people to just come in and be so disrespectful, it's frustrating for our residents because it's a free service that we offer," Avery said.
This isn't the first time they've been targeted. Back in January and February, several of their vacant townhomes that were being rehabbed were hit too, believed to be by the same red truck.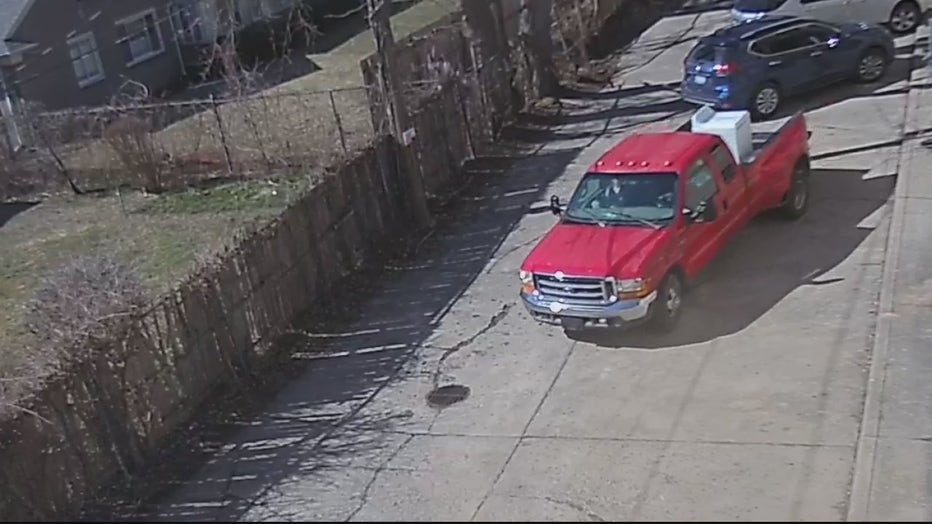 "We've had furnaces, hot water tanks, washing machines, refrigerators, stoves, kitchen sink - there was a kitchen sink - they stole a kitchen sink," Avery said.
The truck wasn't spotted on camera until now and they believe the same people who walked off with the washer and dryer were the ones who were here earlier this year. 
The building is totally secure - all the doors locked - but they took a crowbar and pried open this back door - and walked right in...
It was caught on surveillance camera - which helps - but now they just need to find who did it.
Crimestoppers is offering a $1,000 reward for anonymous tips. Anyone with information is asked to call 1-800-SPEAK-UP.