Leaking fire hydrant freezes over Detroit neighborhood
DETROIT (FOX 2) - A leaking fire hydrant is getting repaired after the water froze, creating an issue for a west side Detroit neighborhood.
"My daughter was stuck out here, it's 6 in the morning. I couldn't get to work. My daughter couldn't get the children to school," Torrea Williams said. "Her tires were literally frozen in inches of ice."
It also made for icy, dangerous sidewalks.
"I slipped and fell," Williams said.
Williams said the hydrant has been a problem on W. Parkway for a while.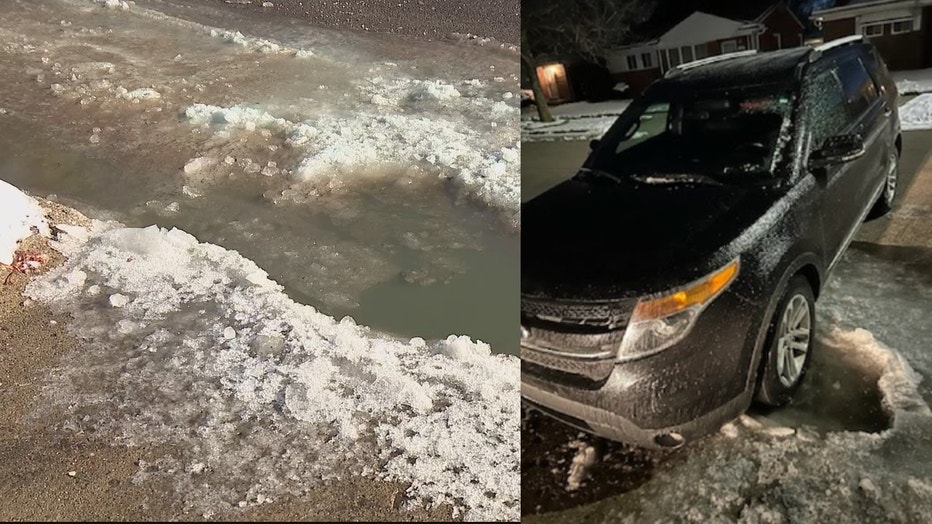 "I've made this complaint for over a year," she said. "I made several, numerous phone calls to the Detroit water company in regards to fixing the hydrant."
Crews were at the home Thursday to fix the hydrant.
City officials said the hydrant had leaked before and was fixed. However, it began leaking again.
"It did take us some time to fix it the first time and then the fire hydrant leaked again, so it's understandable that it seems like a year that it was totally out, but that's not the case," said Bryan Peckinpaugh, the spokesman for the Detroit Water and Sewerage Department.
According to the city, a number of hydrants that are in need of attention are getting the fix they need.
"We are doing fast track of clustered fire hydrant repairs. Our board of water commissioners approved the contract last week, so they are repairing 35 to 40 hydrants a day," Peckinpaugh said.
Even with the fire hydrants that need to be repaired, Peckinpaugh said the city has plenty of hydrants.
"We have an abundant number of hydrants, 300 feet apart in the city of Detroit is sufficient for fire suppression," he said.
If you suffer property damage from a leaking fire hydrant, file a damage claim.