Macomb County family reunites with deputies who saved daughter in near-drowning
FOX 2 (WJBK) - A Macomb County father has a reason to be thankful for this Father's Day. Last weekend, first responders saved his daughter from drowning.
FOX 2 showed the dramatic body cam video earlier this week. On Thursday the family had a much-anticipated reunion with the heroes who rescued little Mira.
"I can't be more thankful to them," said Saif Lateef. "There's no word to explain how much I'm thankful for them that I have my daughter back."
Earlier this week, the Macomb County Sheriff's Office released body cam video of the harrowing ordeal. Today he, his wife and his daughter reunited with them.
"It was the worst 24 hours in my life that I ever experienced, but Mira, she's here," said Lateef. "Every time I look at her face. Every time I hear her voice, or I hear she call my name, it's taking that pain away."
Lateef said he took a work call Saturday morning when he heard his wife screaming.
"So I went outside, and she gave me little Mira facing down," he said. "She's all blue and alot of white stuff is coming out of her mouth."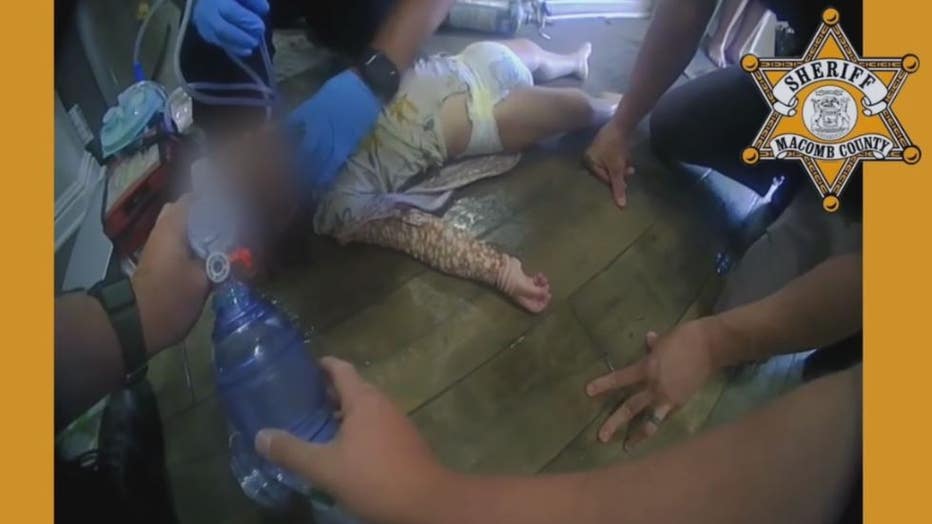 Macomb County Sheriff's Deputy John Potocki was one of the first responders.
"When we rounded that corner to go into the home, it was the worst-case scenario of seeing that child lifeless on the ground - we just jumped into action," he said.
As young Mira appeared lifeless, sheriff's deputies and firefighters decided to drive her to the hospital.
Related: Macomb County deputies save 2-year-old found face-down in swimming pool
Later, paramedics life-flighted the toddler to a medical team, which helped her survive.
"This was an amazing outcome," said dispatcher Lindsay McCord. "This is not something that happens every day. You don't take a drowning every day, you don't do CPR of a child every day. So this was the best possible outcome."
A job well done for the heroes who have given a little girl, a second chance at life.