Manslaughter charge dropped against sgt., 2 paramedics in Westland jail death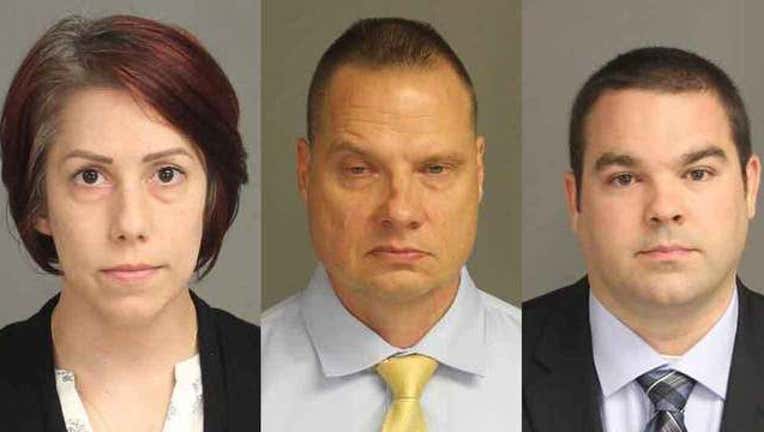 article
WESTLAND, Mich. (FOX 2) - Manslaughter charges against three people involved with the death of a man in a Westland jail have been dropped.
According to the Wayne County Prosecutor's Office, manslaughter charges have been dismissed against Westland Sgt. Ronald Buckley, and Westland paramedics Leah Maynard and Matt Dicosola. Each defendant is stilled charged with misconduct in office, which carries a 5-year maximum penalty.  
The incident took place the morning of Dec. 10, 2017, when William Marshall was pulled over for a suspended license and was found with marijuana and cocaine. Prosecutors said Marshall had a white powdered substance on his mouth.
RELATED: Sgt. fired after death in Westland jail; two paramedics also charged
Officials said Marshall was acting normally when he arrived at the Westland jail around 6:40 a.m. and had not reported any medical issues. Within an hour, he began convulsing. 
Witnesses said Marshall begged for help as the watch commander for the jail Sgt. Ronald Buckley, called emergency services. Prosecutors said Westland paramedics Matt Dicosola and Leah Maynard arrived around 8 a.m. to find Marshall having muscle spasms on his cell floor, as he told them he was having a seizure and needed help.
Marshall was allegedly dragged from his cell into the hallway, and the paramedics did not take his vital signs or medically intervene. Officials said he was taken back into his cell and the paramedics determined he was not having a seizure, but told the sergeant they could take Marshall to the hospital. Sgt. Buckley dismissed them around 8:10 a.m.
RELATED: Man dies in Westland jail from ingesting cocaine, family says police refused help
Officials said Buckley saw Marshall still convulsing around 8:27 a.m. before leaving the jail cell area a few minutes later. About an hour later, Buckley observed Marshall not moving by 9:27 a.m. and had another officer check Marshall's pulse. They then used a defibrillator and administered CPR. Prosecutors say paramedics returned to the jail around 9:39 a.m. and Marshall was taken to a local hospital where he was pronounced dead. His cause of death was determined to be cocaine toxicity.
On Oct. 1, 2018,  Wayne County Prosecutor Kym Worthy announced Buckley, Maynard and Dicosola were each charged with involuntary manslaughter - failure to perform a legal duty, a felony with a 15-year maximum penalty, and misconduct in office.
Prosecutors said Marshall's death was direct result of the defendants' failure to perform a duty.
However on Tuesday, Jan. 22, the judge ruled that the prosecution had not presented sufficient evidence to show that the defendants' actions were the cause of Marshall's death. The defendants were bound over on the misconduct in office charge.