Massive walkout at Dearborn Heights' Annapolis High School after principal's sudden suspension
DEARBORN HEIGHTS, Mich. (FOX 2) - A massive crowd of students walked out of Annapolis High School in Dearborn Heights for a peaceful protest while they demanded to know why the leader of the school was suddenly placed on administrative leave.
The students walked out of the school Tuesday morning as a show of support fo their principal, Aaron Mollett, who they said took time to build relationships with them. So, why was he suddenly suspended?
"I think it's unreasonable to suspend him and then not give out a reason for it. I think they should give out a reason for suspending him. That's why so many people are coming out for it," Nariah Leggs said. "I've talked to him. He's helped me. What I think that's going on with him is not right. It shouldn't have happened to anyone."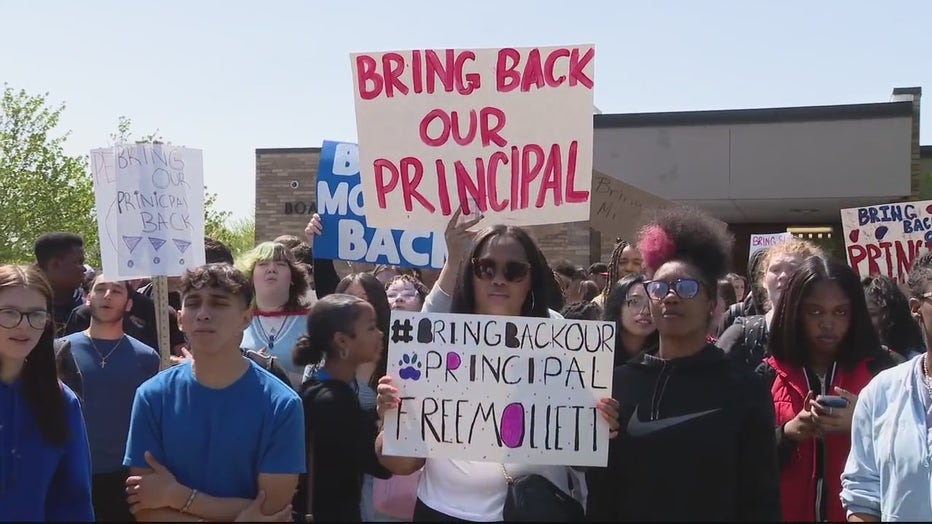 The students weren't the only ones protesting. Kia Riggins is a parent and an employee of the school district and says he's one of the best principals she's ever known and that the way the students are making their voices heard means something.
"I love it. I love it because they are using their voice. It's different than parents or adults using their voice. The kids are using their voice, and they want to be heard," Riggins said.
She wasn't the only parent out there. Aaraku Harse has a student in the school as well and says Mollett takes extra care with students.
"Mr Mollett is an awesome person. He's amazing. He takes the students welfare and their mental health, physical health, emotional health, he takes it seriously. He treats every child like it's his own. My daughter suffered from mental health issues. When I told Mr Mollett, he was right on it," Harse said.
The reason for the school's suspension is still unclear. In a statement, leadership said they support the student's rights to protest.
"We recognize that Mr Mollett is well thought of by students, staff, and families, and situations like these can be emotionally charged. With regard to the student demonstration, we have every intent to support our students' First Amendment rights to gather peacefully to express their concern," the statement read.
The suspension of Mollett came shortly after a student died by suicide but the district has not said if the decision to remove the principal is related.
"We further recognize that students, staff members, and families would like to have more information than we are able to provide. We ask for patience and grace as we work toward the next steps in this highly-sensitive and difficult process," the district said in a separate statement.
The students and parents who participated on Tuesday told FOX 2 they plan to be at Wednesday's school board meeting to further support their principal.