Metro Detroit family rescued after getting stranded in snow while traveling to UP to see Northern Lights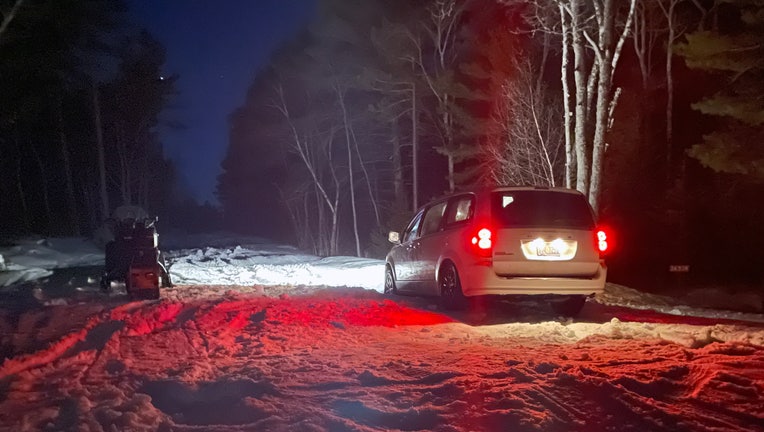 article
LUCE COUNTY, Mich. (FOX 2) - Michigan Department of Natural Resources conservation officers helped a Livonia family after they traveled north to see the Northern Lights and got stuck.
Conservation officers Justin Vinson and Cole VanOosten responded around 12:30 a.m. to help look for Stephanie Knapp, 37, four children ranging in age from 10 to 14, and a dog who were stranded in deep snow in the Upper Peninsula's Luce County.
According to the DNR, the family headed to the UP earlier in the day, and near the end of their 400-mile trek, ran out of gas. Another traveler from Lower Michigan, Brian Gorski, 39, of Allen Park, was in the area looking for rocks along the Lake Superior shoreline. He gave Knapp a ride to Grand Marais to get gas for her minivan. During this time, Knapp contacted a friend and let her know she was headed to Lake Superior State Forest Campground, about 12 miles east of Grand Marais.
The friend called 911 late Saturday after not hearing from Knapp for a few hours. Law enforcement went to the campground, which is open year-round but has portions of road leading to it that are not plowed. 
Luce County Sheriff's Deputy Zachariah Kitzman was looking for the van and found Gorski's vehicle stuck in the snow. He had made it about 1 ½ miles from where he left Knapp before getting stuck.
The conservation officers used their DNR-issued snowmobile and all-terrain vehicle to travel to Gorski, then Vinson assisted him in getting his 4x4 off-road capable truck moving again.
VanOosten went ahead to reach Kitzman, who had walked nearly four miles and returned him to his patrol vehicle. 
Read Next: Footprints lead DNR officers to missing Michigan boy
Vinson continued west on County Road 407 along the Lake Superior shoreline to find Knapp trying to dig the van out of the snow around 1:15 a.m. The children and dog were safe inside.
The DNR said that Knapp told Vinson that she believed the vehicle was almost free from the snow. However, Vinson said that without an off-road towing service, she would likely continue to get stuck and be unable to drive the van out until later in the month or in early May.
Knapp weighed her options and then agreed to have a towing service get the vehicle. While they waited for the wrecker, the conservation officers built a small campfire to help Knapp, the children, and the dog warm up.
At about 3:30 a.m., Great Lakes Towing Service arrived, freed the vehicle, and towed it to the nearest plowed portion of County Road 407,  just east of Grand Marais.
As the conservation officers cleared the scene at about 3:45 a.m., they were traveling to the staging area when they again came upon Gorski who was now stuck again. Gorski said he had spoken to the towing service operator. If Gorski could not get his vehicle out, the operator had said he would help him, too.
"People get an idea that something seems like a fun adventure and jump into situations without having any local knowledge or being prepared," said DNR District Law Supervisor Lt. Eugene "Skip" Hagym "Taking a two-wheel drive vehicle into an area with some of the heaviest snowfalls in the state, that is only accessible by snowmobile or ORVs at this time of year, is a recipe for trouble."