Michigan's 4th COVID-19 surge may not peak for weeks as omicron pushes cases and hospitalizations to highs
LANSING, Mich. - Michigan's current COVID-19 surge is not like the others. 
Where the 2020 holiday surge began to dip in mid-January, this season's has exponentially increased. More than 100 children are currently in the hospital with the virus, where they're exhibiting life-threatening symptoms. 
In short: "We're in a very different place than we've been before," the state's chief medical officer said Tuesday.
"The numbers we've seen during this surge have not been seen at earlier times of the pandemic," said Dr. Natasha Bagdasarian. 
A chart displayed during the Michigan Department of Health and Human Services underscored the difference the omicron variant has made in Michigan's COVID-19 battle. The 2020 holiday wave peaked in mid-November. Close to 700 cases were being reported a day on average at that time.
The 2021 holiday surge was on a similar track, but in mid-December, cases went up instead of down. Bagdasarian estimates that omicron, which is accounting for some 90% of cases in some regions of the state, is the dominant reason behind the startling spike.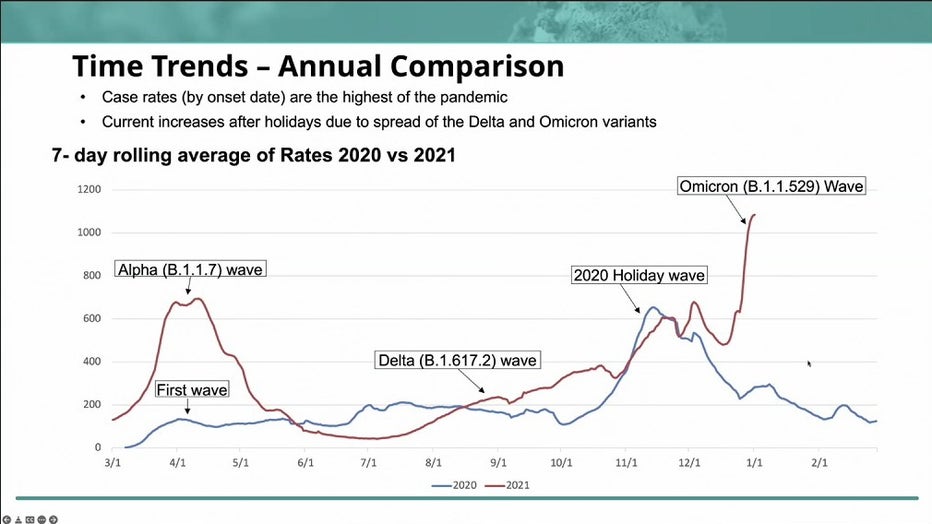 A chart showing COVID-19 infection trends in 2020 and 2021. The red line, 2021 cases, continues to grow into 2022. 
Modeling from the multiple health agencies and pandemic trackers estimate Michigan's likeliest path toward its peak won't hit for another few weeks. Meanwhile, the state is reporting several thousand daily cases on average.
MORE: Is a fourth COVID-19 vaccine coming?
"It is critical every person continues to take steps to stay safe," MDHHS Director Elizabeth Hertel said. "As of this week, hospitalized kids increased to all-time highs last week."
Kids with COVID-19 hospitalized at record-high rate
Pediatric cases peaked at 107 patients - 66% higher than the week of Dec. 20. 
Dr. Lauren Yagiela, a pediatric critical care physician at Children's Hospital of Michigan said she is seeing kids develop three serious forms of illness as a result of their COVID-19 infection.
They include Covid pneumonia, myocarditis, and multi-system inflammatory syndrome. 
"The children we have cared for….have often required a variety of medical treatments to help support their hearts and lungs when they are sick," said Yagiela. 
While kids with lung problems receive high rates of oxygen flow into a child's nose or high quality masks that provide pressure to make things easier for breathing, others have been given drugs like epinephrine to raise their blood pressure. 
Some children have needed heart-lung bypasses due to their organs failing. Other kids with comorbidities like diabetes or asthma have seen their conditions grow more severe.
"The majority of children we cared for with serious and life-threatening illness due to Covid have recovered. However, these children can be in the hospital anywhere from one-to-two days, to up to one-to-two months, depending on how severe their illness was," said Yagiela. 
Where Covid is the most predominant
While the state is seeing high case rates everywhere, the Southeast Michigan regions are claiming the most cases. 
Both Region 2N (Oakland, Macomb, St. Clair County) and 2S (Wayne, Washtenaw, and Monroe County) are the main source behind Michigan's fourth surge. 
2N is reporting 499 cases per million people and 1,104 people in the hospital. 2S is reporting 595 cases per million and 1,326 hospitalizations. The previous surges hit these areas hard as well due to the population density of the areas. 
RELATED: Michigan's Covid count is at an all-time high. Doctors say it's likely undercounted
However, the patient load is pushing hospital capacities well beyond their previously reported highs. The need has prompted two of the five federal medical teams dispatched to Michigan to work in Metro Detroit - one team is at Henry Ford Health System in Wyandotte and the other at Beaumont Dearborn. 
Bagdasarian said all age groups were experiencing upticks in hospitalization rates, but the 20-29 age group was seeing the largest increase. 
When will Michigan's peak end?
Bagdasarian expects the latest surge to peak in the end of January or beginning of February. When it does peak, the crest will be quick and cases will fall rapidly.
But before that happens, the most pessimistic models - which Bagdasarian says have been the most accurate - find the case rates could climb as high as 200,000 weekly cases and more than 8,000 people hospitalized.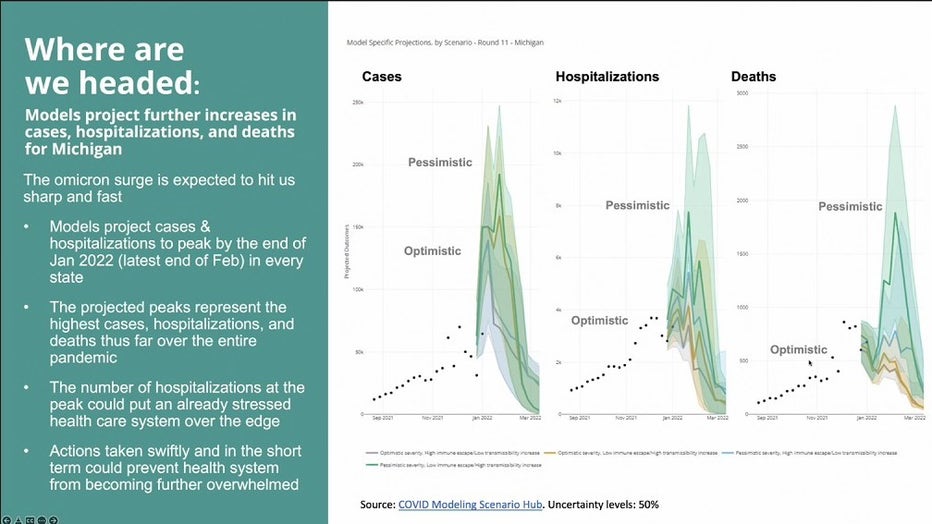 Scenarios that could play out when Michigan's Covid surge could end
Currently, some 4,900 are filling up patient beds.
That scenario would spell even more trouble for a beleaguered health care system that recently announced it had "hit a breaking point."
Is herd immunity near?
Bagdasarian said while the infection rate is high, we won't know when the state has reached its herd immunity threshold. 
How Michigan reaches that level is up to its residents, however. While the state may become endemic in the future, it would be far safer and more effective and easier on the hospitals in the state if immunity was reached with vaccines rather than infections.
"The journey to herd immunity is much safer if we rely on vaccines rather than everyone coming down with Covid in January and February 2022," she said.
Furthermore, kids under the age of 5 are not approved to receive a COVID-19 vaccine. Others with compromised immune systems can't receive the vaccine. But if either group contracts COVID-19, the outcomes could be deadly. 
"We are not going to reach that during this surge. This is a very dangerous time for us," she said.