Michigan State shooting: Resources available to students
The Spartan community is waking up Tuesday to the aftermath of a horrific, deadly shooting on campus. 
Three people were killed, five others are in critical condition, and a subsequent manhunt across East Lansing lasted several hours before the suspect was located thanks to a tip caller and turned the gun on himself. 
The university has canceled all on-campus activities for the next two days, including athletics, classes and any campus-related activities. 
University operations will resume on Thursday, Feb. 16, but classes will not resume until Monday, Feb. 20. 
The university is beginning to make resources available to students and staff: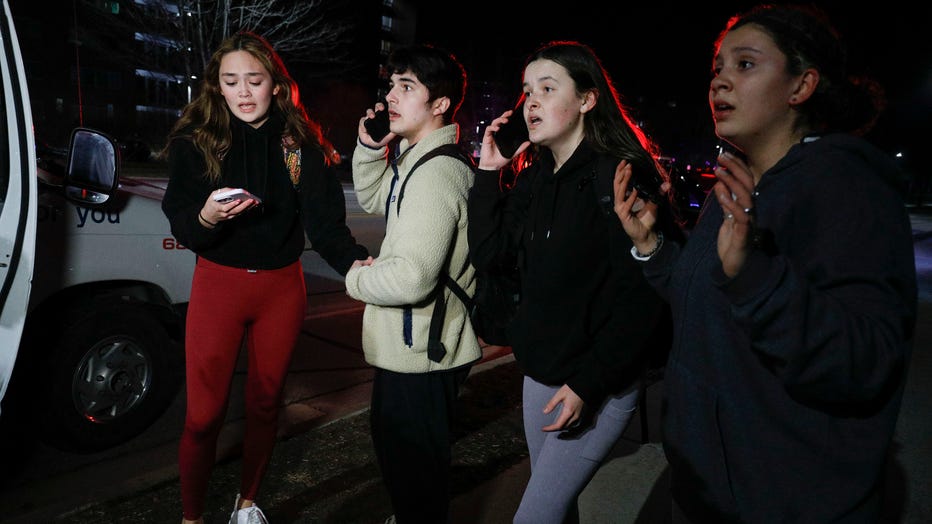 Michigan State University students react during an active shooter situation on campus on February 13, 2023 in East Lansing, Michigan. (Photo by Bill Pugliano/Getty Images)
Crisis counseling
The university is providing crisis counseling to students and staff. 
Counselors were at Hannah Community Center early Tuesday morning and have since spread throughout campus. 
Counselors and Psychiatric Services (CAPS) for students are available at Akers Hall, Brody Square and Shaw Hall in private dining rooms. Counselors with the Employee Assistance Program (EAP) for staff members are available only at Akers Hall. 
Community providers will remain at the Hannah Center with the WorkLife Office supporting. Families can come to the Hannah Center for support until 9 p.m. Tuesday. 
Free, confidential crisis counseling by phone is also available 24/7.
Students can call (517) 355-8270 and press "1" at the prompt. 
The wider Spartan community can call (517) 346-8460. 
RELATED: Michigan State University shooting: What we know about the suspect
Transportation
CATA is running a small bus, with the header signage reading "SHUTTLE," that will transport individuals from the Shaw Ramp (MSU/CATA Transportation Center) to the Hannah Community Center, and back.
Dining services
Dining halls will be open on Tuesday, Feb. 14, and Wednesday, Feb. 15, but with limited hours. 
Brody Square 9 a.m.-3 p.m. 4:30-9 p.m.
The Edge at Akers 9 a.m.-3 p.m. 4:30-9 p.m.
The Vista at Shaw 9 a.m.-3 p.m. 4:30-9 p.m.
Sparty's Market at 1855 Place 10 a.m.-4 p.m.
Family pick-up assistance
A Family Assistance Center has set up a safe area for families to pick up their on-campus students. 
The location is at the MSU Agriculture Pavilion at Farm Lane and Mt. Hope. 
A bus labeled "Pavilion" is also picking up students across campus. 
This is a developing story. Stay with FOX 2 for updates.