Missing rappers update: Person of interest in custody, rat infestation slows police at abandoned building
DETROIT (FOX 2) - Late Thursday night, police said they found three bodies that are believed to be three rappers missing since a Detroit gig they were set to perform at was canceled. But it's going to take some time to confirm their identities and police said the condition of the building is a factor. 
FOX 2 has now learned that a person of interest is in custody for question but has not yet been identified. According to FOX 2 sources, one person is currently in custody and is considered a person of interest. Our sources said the person of interest was arrested during a raid in Detroit.
Armani Kelly, 38, Montoya Givens, 31, and Dante Wicker, 31, are rappers who were slated to perform at Lounge 31 on 7 Mile near Gratiot on Jan. 21. However, the event was canceled that night. For nearly two weeks, their family members and police searched for the trio. 
That search appears to have come to an end at an abandoned apartment complex in Highland Park.
RELATED: Bodies believed to be rappers missing from Detroit found in Highland Park
Armani's mother, Lorrie Kemp, told FOX 2 that she knew her son was no longer alive.
"I'm not going to say I think – I know in my gut, in my heart he's gone," she said earlier this week.
Investigators are still waiting to confirm the victim's identities and cause of death but FOX 2 sources have confirmed that the remains are Kelly, Givens, and Wicker.
Detroit Police Cmdr. Michael McGinnis said on Monday that a family member of one of the three men said they believe they all made it to the club before they disappeared. Kelly is from Oscoda. Detroit police said Givens and Wicker are from Detroit and Melvindale, so those police departments are investigating along with DPD and Oscoda.
Kelly's mother reported her son missing Jan. 23. According to police, she was able to use OnStar to track his car to Warren, where it was found on Jan. 23. Four days later, family members of Givens and Wicker saw a media report about Kelly and realized all three men who knew each other were missing.
Police said it had been moved a few times before police found it.  A 15-year-old who had been driving it has been arrested by police, as the investigation continues. That teen has been charged with possession of burglary tools and concealing and receiving a stolen car. Police have not called him a person of interest in the murder.
Sometime on Thursday, Michigan State Police said they found multiple victims in the apartment building at McNichols and Log Cabin in Highland Park.
FOX 2 has learned that crews have cleared the property but poor conditions, including an infestation of rats, have slowed the efforts as the family waits for answers. 
"Somebody knows something. Somebody will speak. I dont know when it will come out," Kemp said.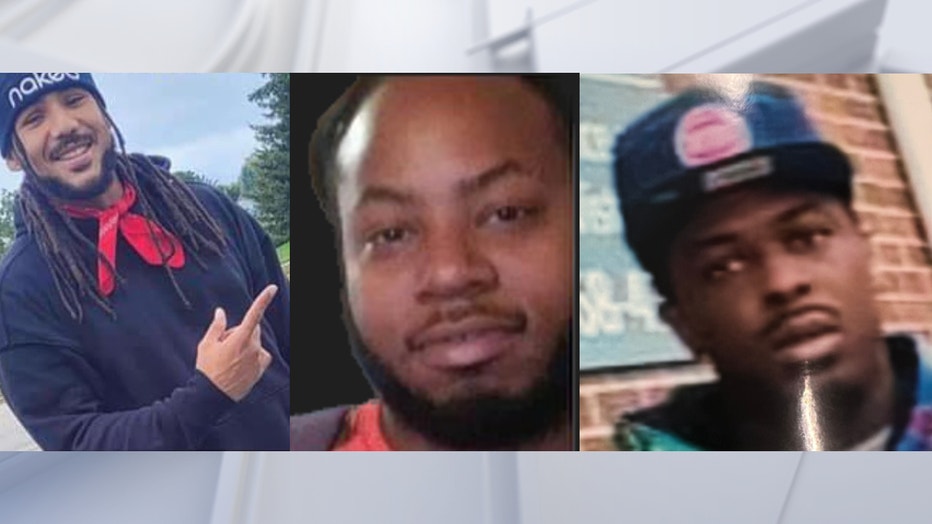 (From L to R) Armani Kelly, Dante Wicker, Montoya Givens